What's Happening in the Dressage World?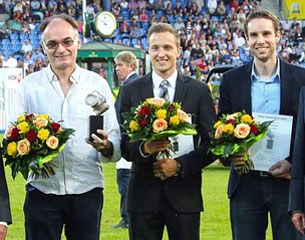 The French photographer Christophe Bricot has become the winner of the 2016 Silver Camera Award for taking the Best Equestrian Photo of the Year. Bricot was honoured in a special ceremony at the 2016 CHIO Aachen on Saturday 16 July 2016.
The French photographer, Christophe Bricot, did everything right. He pressed the trigger of the camera at exactly the right moment and shot a unique photo. An unparalleled motif was the result. The protagonists: Rider and horse over the obstacle, the sun setting in the background, to the right the impressive Eifel Tower. Bricot was distinguished with the media prize, "The Silver Camera" for his piece of photographic art entitled "Lauren Hough riding Ohlala in Paris" in the Main Stadium on Saturday evening (July 16th) after the Final of the Sparkassen-Youngsters-Cup at the CHIO Aachen.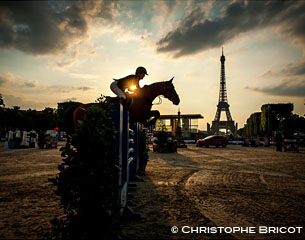 The runners-up Daniel Kaiser (GER) for "Just a kiss" and Jeffrey Fierens (BEL) for "Eventing in Arville" (BEL), who came second and third respectively, were also presented with their prizes by Helmut Schiffer, Executive Director of the Rheinischer Sparkassen & Giroverband, and Hans Kauhsen, member of the Supervisory Board of the Aachen-Laurensberger Rennverein e.V. 123 photographers from all over the world had submitted entries to the competition.
The renowned media prize is awarded annually by the Aachen-Laurensberger Rennverein e.V., the Sparkasse Aachen and the Rheinischer Sparkassen & Giroverband to the best international equestrian sport photo. The winner receives prize-money to the value of 2,500 euro, second place is endowed with 1,000 euro and third place with 500 euro.
Photos © Michael Steuch / Christophe Bricot
Related Links
Bricot, Fierens, Kaiser Nominated for 2016 Silver Camera Award
Leanjo de Koster Wins 2015 Silver Camera Award
Pam Langrish Wins 2014 Silver Camera Award
Dirk Caremans Wins 2013 Silver Camera Award
Julia Rau Wins 2011 Silver Camera Award at CDIO Aachen
26th June 2003 - Aachen Accolades
Silver Camera 2001 for Werner Ernst
Bernhard Kunz, Winner Silver Camera Award 2000