2016 World Championships for Young Dressage Horses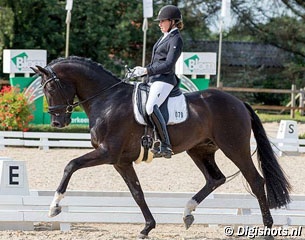 The definite and final entries for the 2016 World Championships for Young Dressage Horses in Ermelo, The Netherlands, on 29 - 31 July 2016 have been announced. No less than 97 riders, coming from 26 countries, presenting 111 horses will make their appearance at the event where sport and breeding come together.
Dorothee Schneider will bring her phenomenon Sezuan. The Zack-son won gold in the German Verden in 2014 and 2015. This year the pair are part of the new category for seven-year-old dressage horses. The question is whether Schneider and her champion horse can, as the first combination ever, complete their World Breeding Dressage Championships for Young Horses trilogy this year in Ermelo. Amongst the six-year-olds it is the Spanish Severo Jurado Lopez that hopes to prolong his title with the DWB-registred Fiontini (by Fassbinder).
Sezuan and Fiontini have been added to a select group of dressage horses. During previous editions Olympic horses such as Uzzo (by Lancet), Damon Hill (by Donnerhall) and Painted Black (by Gribaldi) won gold and silver at the World Young horse Championships and later on reached top positions in the Grand Prix rankings. World-famous progenitors such as Sandro Hit, Florencio and Rousseau were a guarantee for top positions and have fully lived up to the expectations in breeding.
The final entries, not yet mentioned on Eurodressage are:
Australia
Simone Pearce - Fine Time (5yo)
Maree Tomkinson - Donna Elene (6yo)
Bermuda
Annabelle Collins - Fifth Avenue (6yo)
Canada
Pia Fortmuller - Frieda (5yo)
Czech republic
Martina Opocenska - Wild Cat (5yo)
Hana Vasaryova - Santos Dumont (5yo) and Silky Moves (6yo)
Greece
Ioulia Kyriaki Koudouni - Collier (5yo)
Iran
Elahah Ramezani - Bellmeier (6yo)
Italy
Chiara Prijs Vitael - Falcon
Luxembourg
Kristine Moller - Pequinet (7yo) and Standing 'O Vation (6yo)
Sascha Schulz - Quel Filou (5yo)
Nicolas Wagner - Quater Back Junior (7yo) and Rock on Top (5yo)
Morocco
Yessin Rahmouni - Ferrari (6yo) and Gaga (5yo)
Poland
Ilona Jakas - Lord Django (6yo)
Portugal
Maria Caetano - Fenix do Tineo (6yo)
Russia
Polina Afanasieva - Querido (5yo)
South Africa
Ingrid Malan - Giovanni (5yo)
Spain
Juan Manuel Acosta Ponce - Salobre TR (5yo)
Francisco Gil Ortiz - Israel X (7yo)
Severo Jurado Lopes - Fiontini (5yo), Franklin (6yo), Grand Galaxy Win (5yo), and Rockson (5yo)
Magin Mateu Lopez - Duncan IV (7yo)
Juan Antonio Perez Pulido - Furtwangler (5yo)
Nuria Vila Perez - Brandon (6yo)
Switzerland
Andrea Engeler - Sanciscus (6yo)
Photo © Digishots
Related Link
Eurodressage Coverage of the 2016 World Young Horse Championships