2016 Dutch Dressage Championships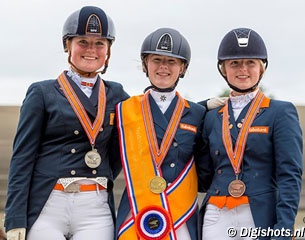 Junior rider Bo Oudhof, young rider Jeanine Nieuwenhuis, small tour rider Edward Gal, Under 25 rider Anne Meulendijks and Grand Prix rider Diederik van Silfhout were crowned 2016 Dutch Dressage Championships in those divisions at their Nationals held on 14 - 17 July 2016 at the KNHS headquarters in Ermelo, The Netherlands.
This year's Dutch Dressage Championships were remarkably scheduled during the 2016 CDIO Aachen, the most prestigious dressage event in the world, as well as one week before the 2016 European Junior and Young Riders Championships. The Dutch Nationals counted as second of two observation trials for Dutch team selection for the 2016 Rio Olympic Games so the Grand Prix riders came out in full force, but in the youth divisions some of Holland's best riders were missing as they were in preparation of their departure to Oliva Nova in Spain.
The 2016 Dutch Championships kicked off on 14 July with the youth riders' divisions. In the junior category the 18-year old Bo Oudhof captured the champion's sash after winning both rounds. Aboard the 10-year old Colt Sollenburg (by Vivaldi x Osmium) she scored 69.243% in the team test and 73.000% in the Kur and totaled 142.243 points to become the clear winner far ahead of the competition. Mylene Spaak and Ziteldo (by Royal Dance x Rinaldo) earned silver with 67.189% and 68.775% (135.964 points), while the bronze went to Mercedes Verweij on Wiolita (by San Remo x Renville) with 66.270% and 69.300% (135.570 pts).
"In the first test I had a real wow-feeling. I never have that because I'm always very critical, but now I was riding with a smile on my face," said Oudhof. In the freestyle the horse was a bit more tense but he still went "really well. Colt was on my aids and he thought it was fantastic in the main arena. I never expected this (the gold medal). You can equally go wrong. I know we had it in us and it came out at right time, which is today when everything worked."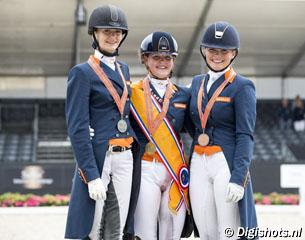 In the Young Riders category, Dutch team rider Jeanine Nieuwenhuis decided to stay home longer before heading to Spain in order to secure the national title first. With Tim Coomans' Athene (by United x Jazz) she was a league of her own and scored 74.237% in the team test and 75.375% in the Kur for gold (149.612 points). Thalia Rockx, who is the Dutch team reserve, got silver aboard her father Johan's Grand Prix horse Verdi de la Fazenda (by Florett As x Sandro Hit). The pair scored 69.026% and 71.000% to total 140.026 points. Lotte Meulendijks saddled her second horse Parole (by Pasolongo x Rosso di Sera) for the Nationals and won bronze with 68.079% and 71.675% (139.754 points).
"I'm so happy. Each victory is special. This is my last year in young riders so I didn't want to miss this competition," said Nieuwenhuis. "Athene is super fit, otherwise this couldn't have happened. You can't get me more fanatic than by letting me ride a competition. You ride differently at shows than at home and this is a good warming up for the European Championships. Of course they are close together but it fits in my preparation."
The 2016 European Junior and Young Riders Championships begin Wednesday 20 July 2016, six days after the Dutch Nationals.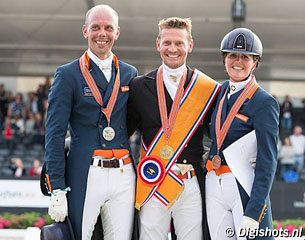 At small tour level, Edward Gal wielded the axe of power aboard the Glock owned 8-year old Danish warmblood stallion Zonik (by Zack x Romanov ). The pair dazzled the crowds and judges and put whopping scores on the board with 79.430% int he Prix St Georges and 81.708% in the Intermediaire I kur to Music. He totalled 161.138 points for gold. Gal's life partner Hans Peter Minderhoud grabbed silver aboard the 8-year old KWPN stallion Dream Boy (by Vivaldi x Ferro) with 74.737% and 79.167% (153.904). Emmelie Scholtens and the 8-year old licensed KWPn stallion Dorado (by Krack  C x Rousseau) were good for bronze with 73.596% and 78.292% (151.888).
"Zonik performed nicely at the Championships," said Gal after winning the champion's sash. "He went very well and it all gets more confirmed for him. During the selection trials he was still very distracted. You have to go directly in the ring there. Here Zonik spent a few days in the stalls, which gives him rest. The future is promising, he has all the capabilities."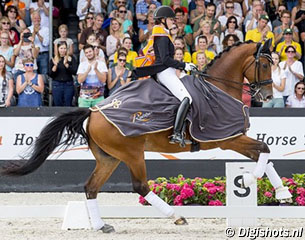 In the Under 25 division Anne Meulendijks moved into the winner's circle with her 11-year old Dutch bred Avanti (by United x Farrington). She won the Short Grand Prix and Kur to Music with 70.349% and 77.850% (total 148.199 points). Stephanie Kooijman and her 13-year old KWPN gelding Winston (by OO Seven x Cocktail) were the best Dutch pair at the 2016 European Under 25 Championships, but at the Nationals had to settle for silver with 69.109% and 76.100% (145.209 pts). Maxime van der Vlist and the 10-year old KWPN bred Bailey (by Negro x Balzflug) got the bronze with 69.574% and 74.875% (144.449 pts).
"This is so cool. I never expected it but worked hard for it," said Meulendijks. "Avanti is such a dream horse. That it worked after his holiday after the European Under 25 Championships proves his top character."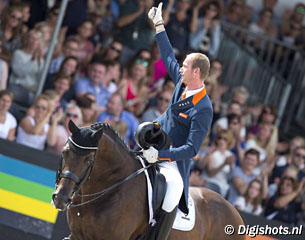 At Grand Prix level Diederik van Silfhout and the 11-year old KWPN stallion Arlando (by Paddox x Mythens) moved into first place and the highest step of the podium after placing third in the Grand Prix (78.360%) and first in the freestyle (84.825%). With a total of 163.185% he got the gold at the 2016 Dutch Grand Prix champion's title. Hans Peter Minderhoud and his number one horse, 14-year old KWPN stallion Johnson (by Jazz x Flemmingh), earned silver after finishing second in the Grand Prix with 79.340% and third in the Kur with 80.850% (160.190 points). Adelinde Cornelissen and her 19-year old Parzival (by Jazz x Ulft) got bronze with 76.880% and 81.425% (158.305 points).
Edward Gal withdraw his top horse Undercover right before the show as the horse is still uncomfortable in show environments. Gal did bring his second ride Voice (by De Niro) to Ermelo to win the Grand Prix test. The Nationals were the second Dutch Olympic observation trials and Gal had to prove form on Voice as the black stallion has been injured this spring and hadn't competed since the CDI-W Amsterdam in January. In agreement with team trainer Johan Rockx, Gal and Voice did not show in the freestyle in order to save the horse for Rio.
Photos © Digishots
Related Links
Scores: 2016 Dutch Dressage Championships
Edward Gal Withdraws Undercover from Dutch Championships and Most Likely Rio Contention
Dutch Team Selected for 2016 Olympic Games