2016 Bundeschampionate Qualifier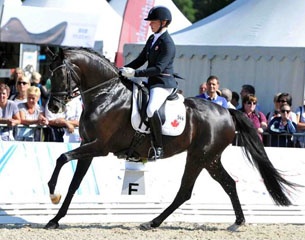 The 5-year old Frieda and the 6-year old Boulevard de la Croisette were the winning horses in the Bundeschampionate qualification classes held at the 2016 Middle German Regional Championships in Prussendorf, Germany, on Saturday 9 July 2016. The turn-out in Prussendorf was very small with only six horses in total contesting the L and M-level tests.
Canadian Pia Fortmuller, who has German roots and currently lives in Germany training with Jonny Hilberath, rode her boyfriend Lars Busch's Hanoverian mare Frieda (by Furstenball x Rouletto) into the winner's circle in the 5-year old division. The black mare scored a total of 8.1 and got 7.5 for walk, 8.5 for trot, 8 for canter and submission and 8.5 for general impression. Sissy-Nadine Selle and Jens Graubohm's Oldenburg stallion Dr. Jingles (by Repertoire x Depardieu) were the runners-up with 7.5. The bay stallion got 7 for walk, 8 for trot, and 7.5 for canter, submission and general impression.
In the 6-year old division only one horse competed. Julia Schonherr presented Katrin Knetsch's Oldenburg stallion Boulevard de la Croisette (by Belissimo M x Sir Donnerhall) and scored a total of 8.1. The dark bay stallion got 8s for walk, trot, canter and submission and 8.5 for general impression.
Photo © Tanja Becker
Results - 2016 Bundeschampionate Qualifier - Prussendorf
5-year olds
1. Frieda (by Fürstenball x Rouletto) - Fortmüller,Pia  - 8.50    7.50    8.00    8.00    8.50 --- 8.10 
2. Dr. Jingles (by Repertoire x Depardieu) - Selle,Sissy-Nadine  - 8.00    7.00    7.50    7.50    7.50 ---   7.50 
3. Lokito (by Likoto xx x Wolkenstein II) - Ibrahim,Tahani  -  7.50    7.50    7.50    7.00    7.50  ---   7.40
4. Stardust (by San Amour x His Highness) - Ibrahim,Tahani  - 7.50    7.00    7.50    6.50    7.50  ---   7.20
4. TI Feel the Rythem (by Fidertanz x Ruiz Soler) - Brose,Stefanie  -  7.50    7.50    7.00    6.50    7.50  --- 7.20  
6-year olds
1. Boulevard de la croisette (by Belissimo M / Sir Donnerhall) - Schönherr,Julia  - 8.00    8.00    8.00    8.00    8.50 --- 8.10
Related Link
Eurodressage Coverage of the 2016 Bundeschampionate