Belgian Dressage News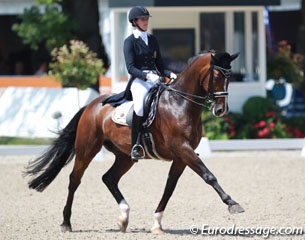 Jorinde Verwimp has been officially nominated by the Belgian Olympic Committee (BOIC) as Belgium's individual representative in the discipline of dressage at the 2016 Olympic Games in Rio de Janeiro, Brazil. 
Fanny Verliefden on Annarico secured the individual Olympic spot for Belgium by ranking best in one of six top spots on the Olympic Athletes Ranking, which closed on 6 March 2016. Unfortunately an injury has prevented Annarico from completing their path to Rio.
The Belgian Equestrian Federation then short-listed Jorinde Verwimp on the Dutch warmblood Tiamo and Jeroen Devroe on the Belgian warmblood Eres DL for the individual slot. 
After a season campaign and a final head-to-head at the CDIO Rotterdam, Verwimp and Tiamo were officially nominated for Rio.
I can not describe how happy I am right now! It's a dream coming true," said Verwimp. "I want to thank all the people that have been supporting me in this very exciting journey. My parents, friends, trainers & my amazing sponsors. And last but not least, Fanny Verliefden who got this ticket with her amazing Anny. I hope you and your princess can show your skills again soon."
Photo © Astrid Appels
Related Links
Two Belgian Olympic Short Listed Horses to Be Vet Checked Before Rio Nomination
Fanny Verliefden and Annarico Drop Out of 2016 Olympic Race
Devroe and Verliefden Named as Belgian Individual Rio Olympic Candidates
Eurodressage Coverage of the 2016 Olympic Games