Australian Dressage News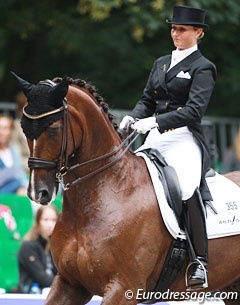 Equestrian Australia (EA) has announced the team that will represent Australia at the 2016 Olympic Games in Rio de Janeiro, Brazil, which takes place on 9 - 15 August 2016.
Based on the performances of the riders at the two European based selection trials, the Australian dressage selected nominated the following team for the Games:
Mary Hanna - Boogie Woogie
Kelly Layne - Udon P
Kristy Oatley - Du Soleil
Lyndal Oatley - Sandro Boy
No team reserve was officially named.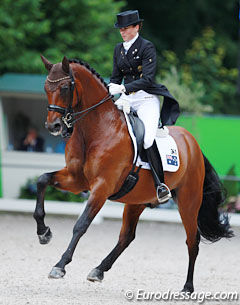 "The fifth and sixth ranked Combinations will be identified as 'non travelling reserve' Combinations," EA press liaison Michelle Cook told Eurodressage. "For the avoidance of doubt, the reserves will not be members of the 2016 Australian Olympic Team unless and until replacing a selected Combination in accordance with clause 1.5 of this Criteria. An athlete who is part of a selected Combination may also be identified as a 'non-travelling reserve' where their performances on their second Horse places them fifth of sixth on the ranking list."
Sue Hearn (on Remmington) and Brett Parbery (on DP Weltmieser) both equalled the same score average of 66.580% after Odense and Rotterdam and are considered non-travelling reserve.
Layne and Oatley have only competed in one out of two mandatory European selection trials. As a result and in accordance with the nomination policy combinations were attributed a ranking score which is the average of the lowest three Australian scores at the event. Layne withdrew Udon P from Rotterdam, while Lyndal Oatley did not show in Rotterdam due to a minor injury.
Mary Hanna will become Australia's oldest competing Olympian and just the third Australian woman to compete at five Games, when she competes at the Rio 2016 Olympic Games. Hanna will be 61 years and 253 days (8 months, 9 days) when she competes on August 10 to surpass Bill Roycroft at Montreal in 1976 (61y 128d). Hanna, and selected table tennis player Jian Fang Lay, will reach the five Games milestone in Rio. Retired beach volleyballer Natalie Cook is the only 5-time female Olympian thus far. Hanna first represented Australia at the Atlanta Games in 1996 before continuing with Olympic competition at the 2000, 2004 and 2012 Games. Shooter Warren Potent at 54 was the eldest Team member before today.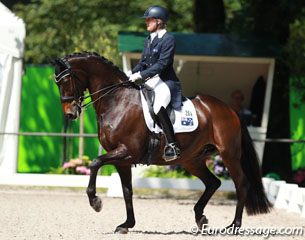 The 61-year-old grandmother is as determined as ever and she's aiming for her best ever Olympic result in Rio.
"Every time I have done the Olympics I've thought, this is probably the last time I will do it, but after the last time I thought, I am going to keep going with this because I feel fit and healthy and why shouldn't I? So, here I am," Hanna said.
Hanna was the only dressage athlete to compete two horses in Australia's two round nomination series. In the end it was her younger horse, Boogie Woogie (by Du Moulin), which earned selection, over Umbro (by Jazz).
"I have always known that Boogie could put in an outstanding performance, but he is a very young Grand Prix horse, relatively speaking. He has gone the best I have ever done on a horse in his first season in Grand Prix. I hope to achieve the best scores I have ever had and push myself up a bracket to be above where I have been previously," said Hanna.

The matriarch of the team is optimistic that the Aussies can perform well in Rio.
"I think we have four horses that all have a possibility of getting over 70 and putting us in a good position. Kristy and I have both got very young horses but horses with great potential, Lyndal has got a very experienced horse and has a proven track record and Kelly has got over 70% several times in America in very good company on the Florida circuit," said Hanna. 
The Australians were ninth in the Team event in London and sixth at Sydney 2000 at Hanna's second Games.
Layne, 41, is the sole Olympic debutant among the group and is no stranger to major competition having represented Australia at the 2006  World Equestrian Games (WEG). She says that the experience was life-changing.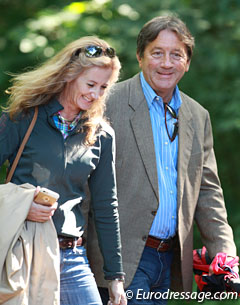 "Even though the competition did not have a good outcome for me (editor's note: she got eliminated from the Grand Prix), I learnt so much from that experience as it put me on a totally different path," said Layne. "Had I not had the WEG experience perhaps things would be very different. It helped me discover what I was really made of and prepared me for a future I could not have imagined ten years ago."

In 2014 the US based Layne came close to representing Australia at a second WEG but an illness to her horse Udon P put that on hold.
"There was a lot of uncertainty about his future during the weeks and months that followed.  However, he never quit, never stopped trying and eventually in the midst of a very hot Wellington (Florida) summer, he found his mojo about three months after the incident, I knew he was back and he's never missed a beat since."
Oatley cousins Lyndal (36) and Kristy (37) are back for another Olympic opportunity and this will be the third consecutive Australian team the pair has shared, having represented their country at London 2012 and also the 2014 World Equestrian Games.
"It makes it more special because then we have shared memories," Kristy said. Rio will be Kristy's fourth Olympic Games and she is confident on improving her London result. "I knew I had a very good horse in London but I knew it was a horse with which I didn't have the possibility to go to the second round with. Now with Du Soleil it is a completely different feeling. He has the potential to go all the way. He is definitely a world-class horse," Kristy said.
Lyndal's horse Sandro Boy is the most experienced Australian team horse and also holds the Australian Grand Prix record, which the pair set at a Sweden event in 2015. 
"He is a seasoned performer now," said Lyndal of her horse. "He loves the big ring atmosphere, he has been an important part of Australian teams for four years and his experience will only help the team."
Photos © Astrid Appels
Related Links
Eurodressage Coverage of the 2016 Olympic Games
Kristy Oatley Leads Australian Campaign in Rotterdam on the Road to Rio
Final Show Down for Belgian, Australian, American, British Olympic Candidates at 2016 CDIO Rotterdam
Lyndal Oatley Withdraws from First Australian Olympic Trial at 2016 CDIO Odense
Australia's Short Listed Rio Olympic Team Riders Named for European Head-To-Head Nomination Events