British Dressage News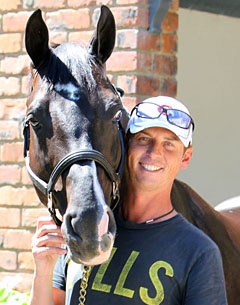 Carl Hester has much reason to celebrate this week. Not only will it be his 49th birthday on 29 June 2016, but today an end came to the Uthopia sale saga. One of Hester's close friends and sponsors has purchased the stallion from the Irish buyer who bought the horse at Wilsons Auctions.  Uthopia's future at Hester's yard in the U.K has now been secured.
After a lengthy legal battle, which took from 2012 until 2016, Uthopia was sold for £165,000 by Wilsons Auction as part of an executorial sale following the bankruptcy of his owners Sasha Stewart and her father Derek Harrison. An anonimous Irishman had the highest bid but it took longer than the deadline for him to complete the deal with Wilsons Auction.
Only on 27 June Wilsons Auction made this public statement: "Further to our auction on 27th May, we can confirm that the sale of Uthopia has now been completed. The highest bidder on the night and new owner of Uthopia, does not wish to be identified at this time. We wish Uthopia and his new owner all the very best for the future.Uthopia has resided at his usual stable yard throughout this entire process.
Today, June 28, Carl Hester MBE is delighted to confirm to Eurodressage that Uthopia has been secured to stay in his yard with his team. The 15-year old stallion was purchased by an unknown buyer on 27 May at Wilsons Auctions in Northern Ireland following the dispute over the horse's ownership. Since then, negotiations have taken place and the horse has now been purchased on Carl's behalf by a supporter who wishes to remain anonymous.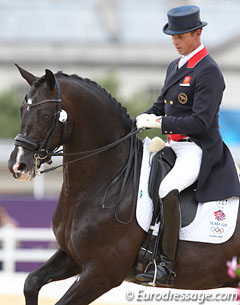 "I couldn't have asked for a better early birthday present – this is the best news and the team are all very happy now we know 'Uti' is staying at home," Hester explained. "It's been a stressful time but I must thank the parties concerned in getting to this outcome, all have been professional and made it exceptionally easy. Those involved wish to remain anonymous and I hope that everyone can respect that but they have my extreme gratitude. I must also thank all the supporters of British dressage for their good wishes and encouragement, it's meant a lot to me and my team. This a happy ending and will make my birthday celebrations this year extra special!"
Carl Hester will be celebrating his 49th birthday in style tomorrow.
"This is going to be an amazing week," a cheerful and relieved Hester told Eurodressage. "Uthopia will stay with me and tomorrow on my birthday I got a personal invite from Jennifer Saunders to attend the premier of the Absolutely Fabulous movie."
Related Links
Identity Uthopia's Buyer "Apparently Irish"
Carl Hester's Uthopia Sells at Auction for £165,000
Wilsons Auctions Takes Welfare of Uthopia Very Seriously
Carl Hester Ready to Secure Uthopia's Future at His Yard
Major Interest from All over the World for Uthopia
Carl Hester "Appalled" that Uthopia will be Auctioned
Olympic Champion Horse Uthopia to be Sold at Auction Without Reserve