2016 World Championships for Young Dressage Horses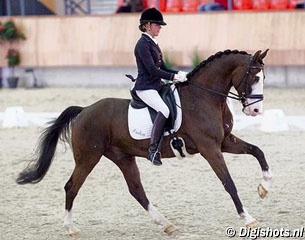 The Dutch horses that will participate in the semi-finals for team selection for the 2016 World Young Horse Championships in Ermelo are known. The Netherlands hosted three qualifiers across the country where young horse combination could ride themselves into the picture.
Three selection trials were held in Delft, Kootwijk and Etten-Leur. The highest score obtained at one of these trials counted for the final ranking; The twelve highest scoring horses per age division are invited to the semi finals, which will take place in Ermelo, The Netherlands, on 14 July.
This year it will be sixteen years that the World Young Horse Championships were last hosted in The Netherlands. In 2001 the World Championships were organized in Arnheim. This year they are held at the KWPN and KNHS headquarters in Ermelo on 29 - 31 July 2016.
The semi-finalists are:
5-year olds
1. Guardian S (by Bodyguard) - Kim Koolen - 83,4
2. Galaxie (by Jazz) - Diederik van Silfhout - 81,6
3. Gregwaard (by Florencio) - Marlou de Ruyter - 80,6
4. Garmante D (by Contango) - Jennifer Sekreve - 80,2
5. Gunner KS (by Belissimo M) - Dana van Lierop - 80
6. Gatino (by Apache) - Annemiek van Venrooij - 78
7. Gifted DvB (by Jazz) - Lisanne der Nederlanden - 78
8. Gizmo (by United) - Mercedes Verweij - 78
9. Falcon (by Apache) - Chiara Prijs - 77,2
10. Gamble (by Furst Romancier) - Vai Bruntink - 77
11. Grace of Rose (by Jazz) - Lotje Schoots -76,8
12. Gin Tonic (by Breezer) - Danielle Heijkoop - 76,8
6-year olds
1. First Apple (by Vivaldi) - Patrick van der Meer - 82,2
2. Cum Laude (by Apche) - Vai Bruntink - 81,8
3. Ferdinand (by Vivaldi) - Mirelle Witlox van Kemenade - 79
4. Painted RDH (by Painted Black) - Geert-Jan Raateland - 78,6
5. Francois (by Voice) - Katie Werring - 75,2
6. Firenze (by Westpoint) - Marlies Ottevanger - 74,2
7. Firencio (by Florencio) - Alexandrine Sprey - 74,2
8. Fifty Fifty (by Vivaldi) - Annemarie Dijkstra-Brouwer - 73,6
9. Ferrari STH (by Apache) - Yessin Rahmouni - 73
10. Klimke (by Sir Donnerhall) - Robin Beekink - 73
11. Fatal Attraction (by Vivaldo) - Saskia Maertens - 72,6
7-year olds
1. Esperance** (by Sorrento) - Bettina Jaeger - 77,13
2. Eddieni (by Johnson) - Theo Hanzon - 76,8
3. Elysias (by Jazz) - Karen Nijvelt - 76,715
4. Ebony (by Painted Black) - Vai Bruntink - 76,37
5. Equirelle W (by Florett As) - Kyra Klinkers - 75,32
6. Elcapone (by Ub40) - Marieke van der Putten - 75,3
7. Electra (by Jazz) - Lynne Maas - 74,265
8. Eastpoint (by Westpoint) - Lynne Maas - 71,36
9. Estupendo (by Ziesto) - Wilma Wernsen - 70,78
10. Esperanza** (by Desperados) - Jasmien de Koeyer - 70,69
11. Enton (by Wynton) - Esmee van Gijtenbeek - 70,33
12. Djorn van de Demro Stabels (by Jorn) - Marc-Peter Sphan - 69,74
** = withdrawn
Photo © Digishots
Related Links
Eurodressage Coverage of the 2016 World Young Horse Championships
Galaxie, Ferdinand, Equirelle W Win Third 2016 Dutch WCYH Selection Trial in Etten-Leur
Guardian S, Cum Laude, Esperance Win Second 2016 Dutch WCYH Selection Trial in Kootwijk
Gatino, First Apple, Elysias Win First Dutch Qualifier for 2016 World Young Horse Championships