Eurodressage Market - Products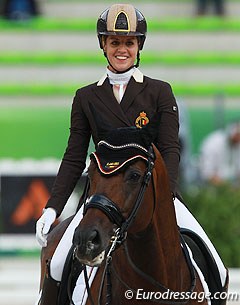 Belgium's acclaimed dressage rider Julie De Deken competes at the highest level of the sport with her number one mount Kingsley Lucky Dance. In 2014, she represented Belgium at the World Equestrian Games and also competed at the European Championships in Herning in 2013. For about six months, Julie De Deken has been using Equine 74 Gastric. After trying many different supplements and products, Julie finally found the right one to get rid of her horse's stomach problems: Equine 74 Gastric.
"My mother was actually the one that discovered Equine 74 Gastric, and about six months ago we started to use the product," Julie De Deken explains. "We had one horse that had quite some stomach problems from the moment we got him. He used to be easily stressed and if he was stressed, it immediately affected his stomach. In addition, he ate very poorly and almost always left half of his food untouched."
After using all kinds of different food and supplements, the problems of Julie's horse still did not go away. "Until we went on to use Equine 74 Gastric!" she says. "It does not work instantly, but after feeding it for a couple of weeks you can really see the horses getting better. The biggest change probably was the way he eats. Instead of being a poor eater, he is a very good one nowadays. He eats everything!"
Not only the appetite of Julie's horse improved, in many other ways the horse also got better. "The level of stress decreased immensely and the horse seems to be much healthier now. When you see him standing on the box, he looks like a relaxed horse. When you go to a show, you feel he is much more relaxed too – the horse just feels better!"
Julie also tried Equine 74 Gastric on her best mount Kingsley Lucky Dance. "Since he is my show horse, I thought it could also be beneficial for him. I gave him only a small dose and although the change was not major, he probably felt a bit better too!"
Julie De Deken would for sure recommend Equine 74 Gastricc to her fellow riders. "I already recommended it to some people who had horses with stomach problems. After using so many different supplements and products, I am really glad we found a product that actually works! If a horse does not eat well, suffers from stomach problems or stress, Equine 74 Gastric will for sure help!"
Equine 74 Gastric is available in Belgium. Please contact Wout Daerden at info@emc-sports.eu
Equine 74 Gastric is available in the Netherlands. lease contact Stèfanie Heins at stefanie@johanheins.nl
For further information please visit  www.equine74gastric.com.
Related Links
Pether Markne: "With Horses I Don't Like it Complicated, so I Choose Equine 74 Gastric"
"The Alarm Bell Rang When My Mare Started Showing Anxiety and Naughtiness Before and During Her Performances"
Karin Zierer: "We think that Equine 74 Gastric is Good for Our Horses"
Tinne Vilhelmson-Silfven Relies on Equine 74 Gastric for Her High Performance Dressage Horses
"My Horses Can Do Without Omeprazole Now" - An Interview with Wolfgang Schade