2016 Danish Dressage Championships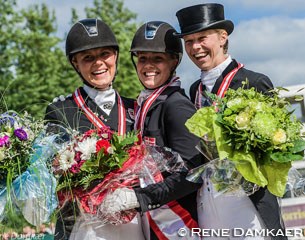 Cathrine Dufour captured the national Grand Prix champion's title and abdicated Anna Kasprzak from the throne as Denmark's number one Grand Prix rider at the 2016 Danish Dressage Championships held at Broholm castle in Gudme, Denmark on 17 - 19 June 2016. Dufour outclasses all competition and won all three rounds of the Championship.
The 24-year old Dufour and her 13-year old Danish bred Atterupgaards Cassidy (by Caprimond x Donnerhall) were a league of their own and won the Grand Prix with 76.800%, the Special with 79.686% and the Kur to Music with 83.900%. Her total of 240.386 points but almost a full 5% ahead of silver medal winning Anna Kasprzak on the 17-year old Finnish warmblood Donnperignon (by Donnerhal x Mozart), who scored 76.740%, 78.157% and 81.000% (total 235.897 points). The bronze went to a very consistently riding Agnete Kirk Thinggaard on the 13-year old Hungarian warmblood Jojo AZ (by Ginus x Justboy) who placed third thrice with 74.520%, 75.157% and 75.200% (total 224.877).
"This is so cool and totally unexpected," said Dufour who is on cloud nine. "I rode this freestyle for the first time on Tuesday so I'm was really excited. Cassidy was a bit more switched on than normal because we started in canter, but it worked. The piaffe and mpirouettes were much better. I'm so lucky to have such a fantastic horse to ride." Dufour acquired Cassidy eight years ago and already won the European Young Riders Champion's title back to back in 2012 and 2013.
Although Kasprzak lost gold, she is still more than happy with silver. "I just want to say thanks to the whole team and to Pepe (Donnperignon). He just keep on giving everything he can and continues to improve. I'm so grateful," said Anna.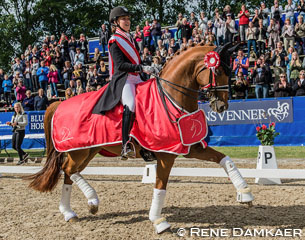 Agnete Kirk Thinggaard won silver last year and now settled for bronze. "I am really happy and I just love to ride the freestyle. It's lovely mysic which fits Jojo well. Today I had some unexpected problems with the tongue, which was really annoying, but we still have a super ride in the arena," said Agnete.
The 2016 Danish Championships were an important Danish Olympic team selection trial and while the top three is crystal clear the battle for the fourth spot is still wide open and the Danes will clash in Aachen for that final Olympic team spot. Team trainer Rudolf Zeilinger was in Broholm to witness the action in the lead-up to the 2016 Rio Games.
"This was a very, very high level and beautiful riding, that we have witnessed here at the Danish Championships. I'm very happy and it looks like we'll have a good Olympics," said Zeilinger.
Based on the rides in Broholm hot contestants for the fourth spot are Daniel Bachmann (Hotline), Rikke Svane (Finckenstein), Anders Dahl (Selten HW), and Mikala Gundersen (My Lady). Mai Tofte Olesen and Rustique certainly rode themselves in the picture but have not yet achieved the international MES and can not be included on the Danish Olympic long list. Ander Dahl and Selten HW put in strong rides in the first two rounds, but withdrew for the freestyle in Broholm as the horse sustained a small cut to his frontleg when he spooked walking to the stable after the Special. The pair will be competing in Aachen for that fourth team spot.
Photos © René Damkaer
Related Links
Scores 2016 Danish Dressage Championships
Anna Kasprzak Wins 2015 Danish Grand Prix Championships
Lone Bang Larsen Wins 2014 Danish Dressage Championships
Anna Kasprzak Toasts Triple Victory and Wins 2013 Danish Dressage Championships
Scores: 2012 Danish Dressage Championships