2016 Bundeschampionate Qualifier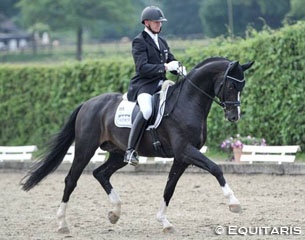 The 5-year olds Scavy and Goldberg and the 6-year old Lord Schufro OLD were the winners of the always very popular Bundeschampionate qualifier in Oer-Erkenschwick, which annually takes place during the Dressage Days at equestrian centre Silverthof. This year the show took place on 10 - 12 June 2016.
The 5-year old division was split into two groups with Ann Christin Wienkamp and Scavy (by Scolari x His Highness) producing the high score of the day in the division. The pair earned an 8.5 and edged out Swedish Jessica Andersson on Blickfang (by Belissimo M x Weltmeyer) with 8.0. In the second group, German A-team Grand Prix rider Hubertus Schmidt made his winning show debut aboard the Dutch bred, Westfalian licensed Goldberg (by Amazing Star x San Remo). The pair scored 8.3. and referred Andrea Timpe on the Westfalian bred Rosenquarz K (by Romanov x Wolkentanz I) to a second place with 7.7.
Steffen Frahm and Terry Lan's Oldenburg bred and former PSI auction horse Lord Schufro (by L'Espoir x Sandro Hit) dominated the 6-year old division by winning the M-level dressage horse class with an 8.5. Hendrik Lochthowe and the Meggle family's Trakehner stallion Grimani (by Gribaldi x Monteverdi) were the runners-up with an 8.2.
Photo © Equitaris
Results - 2016 Bundeschampionate qualifier - Oer-Erkenschwick
5-year olds - Group 1
1. Ann-Christin Wienkamp  - Scavy   - 8.5
2. Jessica Lynn Andersson  - Blickfang -  8
5-year olds - Group 2
1. Hubertus Schmidt  - Goldberg - 8.3
2. Andrea Timpe - Rosenquarz K   - 7.7
3. Johanna Klippert  - Rock it all - 7.6
4. Juliette Piotrowski  - Duke Rubin - 7.4
4. Charlott-Maria Schürmann  - Burlington II  - 7.4
6. Sina Aringer RSC Osnabruecker Land e.V.Dallas 63  7.6
7. Beata Stremler  -D'Liza - 7.5
8. Sebastian Langehanenberg  - Flirt with Me HS - 7.3
9. Jessica Lynn Andersson  - Thomson First Time - 7.2
9. Stephanie Leuenberger  - Inlana V - 7.2
11. Sonja Grunden  - Bella Belicia  - 6.9
11. Juliette Piotrowski  - Amazing Lady  - 6.9
13. Viktoria Vierhaus  - Donna Mey - 6.8
13. Jessica Hartmann  - Fairbanks -  6.8
15.  Sabrina Geßmann  - Fürst Winter  - 6.7
15. Stephanie Leuenberger - Indora V -  6.5
16. Sara Wunsch  - Penny Lane - 6.4
6-year olds
1. Steffen Frahm  - Lord Schufro OLD  - 8.5
2. Hendrik Lochthowe  - Meggle's Grimani  - 8.2
3. Ann-Kathrin Wilting  - Rock Forever II  - 8.1
3. Stefanie Wolf  - Rockman Royal NG - 8.1
5. Kira Laura Soddemann  - Rockabilly - 8
6. Andrea Timpe  - Don Carismo - 7.6
7. Jutta Oelrich-Verlage  - Quadriga - 7.5
7. Andrea Timpe  - Friesen Ball -  7.5
9. Sebastian Langehanenberg  - Riley SL - 7.4
9. Christina Hammann  - Dolby Surround - 7.4
11. Annika Korte  - Daimler - 7.3
11. Andrea Krehenwinkel  - Edelstein - 7.3
13. Steffen Frahm  - Lando  -7.2
14. Kirsten Sieber  - Rosentraum WRT  - 7.1
15. Ivan Nieto Sanchez  - Toscana - 7
15. Ivan Nieto Sanchez  - Attraktiv  - 6
Ella Delaney  - Fürstin Püppi  - RET
Related Link
Eurodressage Coverage of the 2016 Bundeschampionate