2016 Bundeschampionate Qualifier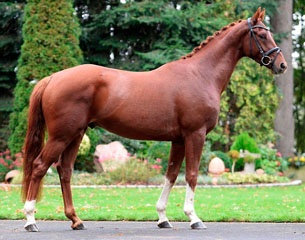 The 5-year old Burberry and the 6-year old Ferdinand were the winning youngsters of the Bundeschampionate qualification classes held at the 2016 Thuringia Regional Dressage Championships in Bad Liebenstein-Sorga, Germany, on 10 - 12 June 2016. Fourteen pair presented themselves at this show.
Svenja Bachmann and the Hanoverian gelding Burberry (by Bonifatius x Wolkentanz I) were strong winners in the 5-year old dressage horse class with an 8.5 total score. They edged out Heinrich Damian Brähler on the Oldenburg gelding Sleepy Hollow (by San Amour x Diamond Hit), who finished second with 8.2.
In the 6-year old division Kim Pfeiffer and the Butzbach couple's Hanoverian stallion Ferdinand (by Floriscount x Embassy) aced the M-level class with 8.5 and felt little competition from the second place-getters Ingo Menze on the Rhinelander stallion Lord Fittipaldi M (by Lord Loxley x Fidermark) who posted a score of 8.1.
Results - 2016 Bundeschampionate Qualifier - Bad Liebenstein
5-year olds
1. Burberry (by Bonifatius x Wolkentanz I) - Bachmann,Svenja  - 8.5 
2. Sleepy Hollow (by San Amour x Diamond Hit)  - Brähler,Heinrich Damian  - 8.2  
3. Friendscout (by Fürst Fugger x Wolkentanz II) - Dupree,Sophie  - 8.1  
4. Dantez (by Danccini xWolkentanz I) - Loew,Marion  - 8.0  
4. Quadriga's Diamantissima (by Diamond Hit x Campari M) - Puschmann,Stefan  -  8.0
6. Sir Sarkozy (by Sarkozy x Carprilli) - Lugge-Kerner,Stefanie  -  7.1   
7. Schimanski (by Sunday x Florestan ) - Wollrath,Antonia  - 7.0   
8. Altefelds Vienetto (by Vitalis x D'accord) - Graf,Elsa-Luise  - 6.8
6-year olds
1. Ferdinand (by Floriscount x Embassy) - Pfeiffer,Kim  -  8.5  
2. Lord Fittipaldi M (by Lord Loxley x Fidermark) - Menze,Ingo  - 8.1 
3. Dariella (by Don Marcello x  Lancier) - Bachmann,Svenja  -  8.0  
3. Quadriga's Jazz Lady (by Jazzman x Stedinger) - Weber,Maja  - 8.0 
5. Dadiva Desperada (by Desperados x Sandro Hit) - Bachmann,Carina  - 7.3   
6. San Diego (by Show Star x Regazzoni) - Fröhlich,Angela  - 6.8
Related Link
Eurodressage Coverage of the 2016 Bundeschampionate