2016 World Championships for Young Dressage Horses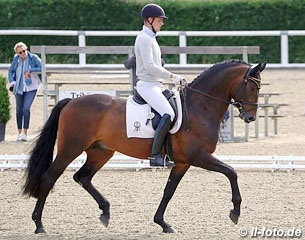 The selectors of the German Olympic Equestrian Committee (DOKR) have picked the horses which are eligible to participate in the second and final German selection trial for the 2016 World Young Horse Championships in Ermelo, The Netherlands on 28 - 31 July 2016.
The German federation held its first training day and selection trial on 7 - 8 June 2016 in which the horses were presented in free training on the first day and had to perform the young horse test on the second day.
The second German selection trial will be held on Wednesday 29 June 2016. The horses have to perform the young horse test one more time before the definite team is announced.
Eligible to move on to the second round are:
5-year olds
Baccardi, Westfalian stallion by Belissimo M – De Niro (Claudia Rüscher)
Daytona Platinum, Oldenburger stallion by Dante Weltino – Charon (Lukas Fischer)
Ferguson, Hanoverian stallion by Floriscount – Lauries Crusador xx (Kirsten Brouwer)
Florenz, Hanoverian stallion by Florencio I –Sandro Hit (Lukas Fischer)
Frank Sinatra, Westfalian gelding by Fidertanz – Louis le Bon (Helen Langehanenberg)
Fürsten-Look, Hanoverian stallion by Fürstenball – Londonderry (Isabel Freese)
Hot Hit, Oldenburger stallion by Hotline – Diamond Hit (Eva Möller)
Lightning C, Hanoverian stallion by Lorenzio – Florencio I (Hermann Burger)
Lordswood Dancing Diamond, Hanoverian gelding by Dancier – Wolkenstein II (Anne-Kathrin Pohlmeier)
First Ampere, Hanoverian stallion by Ampere – Weltruhm (Tessa Frank)
Santo Dottore OLD, Oldenburger stallion by Sir Donnerhall I – Rubinstein I (Kathrin Burger)
Sir Skyfall, Oldenburger stallion by Sandro Hit – K2 (Frederic Wandres)
Special Diva OLD, Oldenburger mare by Sir Donnerhall I – Diamond Hit (Isabel Freese)
 Victoria's Secret, Rhinelander mare by Vitalis – Fidermark (Beatrice Buchwald).
6-year olds
Bluetooth, Oldenburger gelding by Bordeaux – Riccione (Steffen Frahm)
Bohemian, Westfalian stallion by Bordeaux – Samarant (Katrine Kraglund)
Damon's classic, Westfalian gelding by Damon Hill (Heiner Schiergen)
Deluxe, Rhinelander mare by Don Primus – Wolkentanz II (Laura Blackert)
Don Toyamo, Oldenburger gelding by Don Romantic – Sandro Hit (Lena Stegemann)
Dr. Best, German Sport Horse gelding by Dr.Jackson D – Roy Black (Katja Slupinski)
First Romance, Württemberger gelding by Fürst Romancier – Day Dream (Dorothee Schneider)
Flavis, Westfalian stallion by Flanagan – Ehrentusch (Anja Wilimzig)
Goldmond, Trakehner gelding by Imperio – Latimer (Birgit Hild)
Rock Forever II, Westfalian stallion by Rockwell – Landstreicher (Ann-Kathrin Wilting)
Sir Olli, Oldenburger stallion by Sir Donnerhall I – Florestan I (Ann-Christin Wienkamp).
7-year olds
Ernesto, Westfalian gelding by Ehrenwort – Florestan I (Hedda Droege)
Fairplay H, Württemberger gelding by ürst Hohenstein – Disco-Tänzer (Ines Knoll)
Fasine OLD, Oldenburger mare by Fürst Romancier – Sir Donnerhall I (Isabel Freese)
Friedolin, Oldenburger gelding by Fidertanz – De Niro (Sabine Klenk)
Quotenkönig, Westfalian stallion by Quaterback – Fürst Piccolo (Lisa Lindner)
Saphira Royal, Rhinelander mare by San Amour – Monteverdi (Stefanie Wolf)
St. Fernando, Oldenburger gelding by Sir Donnerhall I – Weltmeyer (Pieter van der Raadt)
Sweetheart FH, Hanoverian mare by Scolari – Hohenstein (Marcus Hermes)
Photo © LL-foto
Related Links
Eurodressage Coverage of the 2016 World Young Horse Championships
Combinations for First 2016 German WCYH Selection Trial Announced