2016 Olympic Games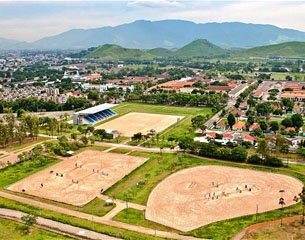 On Tuesday 7 June 2016 Brazil's Federal Police raided the headquarters of a consortium of companies building one of the main 2016 Olympic centers, fueling concerns that malfeasance may have tainted Games-related construction projects.
Investigators say they have uncovered evidence of fraud and falsification of documents related to disposal of construction waste—mainly dirt— at Rio's Deodoro sports complex. A federal judge has also frozen 128 million reais ($37 million) in federal funding from state bank Caixa Econômica Federal to pay for the project.
The consortium building Deodoro, where the equestrian Olympics will be held, consists of Brazilian construction giants Queiroz Galvão and OAS SA, both of which have been implicated in a massive graft scandal surrounding state oil company Petróleo Brasileiro SA,or Petrobras.
Located in the city's northern suburbs, the Deodoro site will host 11 Olympic sports, including shooting, kayaking and equestrian events. It is being built with federal money at a cost of 811.5 million reais. According to the municipal authority responsible for the project, only the Olympic shooting venue remains incomplete.
Read more in the Wall Street Journal
Related Link
Eurodressage Coverage of the 2016 Olympic Games