2016 Bundeschampionate Qualifier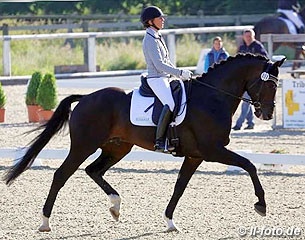 The 5-year old Surabaya M and the 6-year old Zalando became the winners of the Bundeschampionate qualification classes held at the regional show at the Monrepos castle in Ludwigsburg, Germany, on 3 - 5 June 2016. Sixteen horses in total lined up for the L and M-level dressage horse test to earn a ticket to Warendorf.
Carde Meyer and Surabaya M, who already won the BuCha qualifier in Nussloch, also reigned in Ludwigsburg in the 5-year old division.  Meyer and black Hanoverian mare scored a total of 8.1. and were the only pair to crack the 8.0 qualification criterium. Max Wadenspanner and the Bavarian bred stallion Bentley (by Bonifatius x Lanciano) landed second place with 7.7.
In the 6-year old division Nicole Casper and the Oldenburg licensed stallion Zalando (by Zack x Sunny Boy) topped the board with 8.0. Two combinations tied in second place with 7.5: Meike Lang on her own Wurttemberger stallion Sorrento Snorri (by San Amour x Feinbrand) and Geertje Hesse-Wadenspanner on Catharin Schmittnägel's Rhinelander mare Lady Lamira (by Lord Loxley x Goldschmidt).
Photo © LL-foto
Results - 2016 Bundeschampionate Qualifier - Ludwigsburg
5-year olds
1. Surabaya M (by San Amour x Davignon) - Meyer,Carde  - 8.1 
2. Bentley  (by Bonifatius x Lanciano) - Wadenspanner,Max  - 7.7
3. Delecoure (by Diamond Hit x Laurentio) - Schwanz,Uwe  - 7.3
3. Feriado (by Fabregas x Riccione) - Haug,Nicola  - 7.3
5. Feuerball (by Fürstenball x Sandro Hit) - Kühn,Nikolaus  - 6.8   
6. Lord Blackwood (by Lord Leopold x Don Gregory) - Eckstein-Unger,Anica  - 6.7   
Bella Marie 6 (by Belissimo M x Londonderry) - Bühl,Michael - RET/DNS
Findet Nemo (by Fürst Romancier x Stedinger) - Bauer,Christina  - RET/DNS
Faris Girl (by Fürstenball x Rubin-Royal) - Dlugos,Andrea - RET/DNS      
6-year olds
1. Zalando (by Zack x Sunny-Boy) - Casper,Nicole  - 8   
2. Sorrento Snörri (by San Amour x Feinbrand) - Lang,Meike  - 7.5  
2. Lady Lamira (by Lord Loxley x Goldschmidt) - Hesse-Wadenspanner,Geertje  - 7.5  
4. Fiolento de la Rosso (by Florencio x Donnerschlag) - Klenk,Sabine  - 7.4  
5. Danice (by Dancier x Rotspon) - Platzdasch,Andreas - 7.1   
6. Edelstain (by Edward x Fürst Heinrich) - Häufele,Katharina  - 6.8   
Don Caballito TB (by Don Schufro x Sandro Hit) - Mohr,Roxana  - RET/DNS    
Related Link
Eurodressage Coverage of the 2016 Bundeschampionate