2016 World Championships for Young Dressage Horses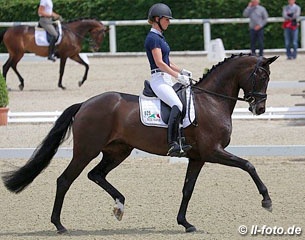 The candidates participating in the first German selection trial for team selection for the 2016 World Young Horse Championships, have been announced. Germany will hold two selection trials to determine the horses that will represent the German breed societies in Ermelo, The Netherlands, on 28 - 31 July 2016.
The German selection trials take place at the DOKR headquarters in Warendorf and each time cover two days.
The first trial will be on 7 - 8 June 2016. On Tuesday 7 June the horses are presented in a training session supervised by the selectors and on Wednesday 8 June they have to perform the young horse test.  At the end of this first trial the selectors will announce a long list of horses that can move on to the second trial.
The selection selection moment is on Wednesday 29 June 2016, where the long listed pairs have to perform the young horse test one more time before the definite team is announced.
Participating in the first trial are:
5-year olds
Tessa Frank - First Ampere (by Ampere x Weltruhm)
Lukas Fischer - Bergolio OLD (by Bordeaux x Rosier)
Eva Möller- Saint JUlien (by Sandro Hit x Donnerhall)
Isabel Freese - Special Diva OLd (by Sir Donnerhall x Diamond Hit)
Sandra Frieling - Don Monet (by Don Nobless x Rascalino)
Andreas Senge - Radisson (by Rock Forever x Sevillano xx)
Lena Stegemann - Rocco Granata (by Rock Forever x Florestan)
Katrin Burger - Santo Dottore OLD (by Sir Donnerhall x Rubinstein)
Ann Christin Wienkamp - Scavy (by Scolari x His Highness)
Frederic Wandres - Sir Skyfall (by Sandro Hit x K2)
Lukas Fischer - Daytona Platinum (by Dante Weltino x Charon)
Rebekka Walter - Vinay (by Vitalis x Warkant)
Claudia Rüscher - Baccardi (by Belissimo M x De Niro)
Esther Maruhn - Der Wademärker (by Dancier x Weltmeyer)
Heiner Schiergen - Eyecatcher (by Estobar x Furst Piccolo)
Kirsten Brouwer - Ferguson (by Floriscount x Lauries Crusador xx)
Matthias Rath - Flash Hit (by Furst Romancier x Sandro Hit)
Helen Langehanenberg - Frank Sinatra (by Fidertanz x Louis le Bon)
Hermann Burger - Lightning C (by Lorenzio x Florencio)
Eva Möller - Hot Hit (by Hotline x Diamond Hit)
Isabel Freese - Fursten-Look (by Furstenball x Londonderry)
Sandra Frieling - Farbenfroh B (by Furst Nymphenburg x Londonderry)
Beatrice Buchwald - Victoria's Secret (by Vitalis x Fidermark)
Anne Kathrin Pohlmeier - Lordswood Dancing Diamond (by Dancier x Wolkenstein II)
Lukas Fischer - Florenz (by Florencio x Sandro Hit)
6-year olds
Anna Sophie Fiebelkorn - Belissario (by Belissimo M x Sandro Hit)
Julia Karl - Benvenuto (by Boston x Pik Bube I)
Steffen Frahm - Bluetooth (by Bordeaux x Riccione)
Petra Middelberg - Bodyguard WF (by Belissimo M x Florestan)
Katrine Kraglund - Bohemian (by Bordeaux x Samarant)
Jennifer hoffmann - Bordeaux' Barolo (by Bordeaux x Munchhausen)
Heiner Schiergen - Damon's Classic (by Damin Hill x )
Laura Blackert - Deluxe (by Don Primus x Wolkentanz II)
Caroline Brandt - Die Furstin (by Don Romantic x Furst Heinrich)
Lena Stegemann - Don Toyamo (by Don Romantic x Sandro Hit)
Katia Slupinski - Dr. Best (by Dr. Jackson D x Roy Black)
Dorothee Schneider - First Romance (by Furst Romancier x Day Dream)
Anja Wilimzig - Flavis (by Flanagan x Ehrentusch)
Birgit Hild - Goldmond (by Imperio x Latimer)
Matthias Schneider - Lutalo (by L'Ami x Levisto)
Ann Kathrin Wilting - Rock Forever II (by Rockwell x Landstreicher)
Stefanie Wolf - Rockman Royal NG (by Rock Forever x Show Star)
Ann Christin Wienkamp - Sir Olli (by Sir Donnerhall x Florestan)
Nicole Wego - Sonnenschein (by Sir Donnerhall II x Bolero)
Friederike Kampmeyer - Valencia (by Vivaldi x Ferragamo)
7-year olds
Lisa Lindner - Quotenkonig (by Quaterback x Furst Piccolo)
Isabel Freese - Fasine (by Furst Romancier x Sir Donnerhall)
Maria Andersen - Placido Domingo (by Dorkas x Hohenstein)
Matthias Rath - Sir Picardi (by Sir Donnerhall x Don Picardi)
Pieter van der Raadt - St. Fernando (by Sir Donnerhall x Weltmeyer)
Yvonne Reiser - Sunlight (by Sungold x Licotus)
Marcus Hermes - Sweetheart FH (by Scolari x Hohenstein)
Katrin Burger - Danzarino OLD (by Diamond Hit x Laurentio)
Hedda Droege - Ernesto (by Ehrenwort x Florestan)
Ines Knoll - Fairplay H (by Furst Hohenstein x Disco Tanzer)
Sabine Klenk - Friedolin (by Fidertanz x De Niro)
Stefanie Wolf - Saphira Royal (by San Amour x Monteverdi)
Isabel Freese - FunfSterne (by Dimaggio x Karon)
Photo © LL-foto
Related Link
Eurodressage Coverage of the 2016 World Young Horse Championships