2016 World Championships for Young Dressage Horses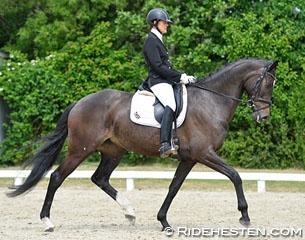 The Danish equestrian federation has announced the long list of horse and rider combinations which have been accepted to participate in the official training and observation trials for team selection for the 2016 World Young Horse Championships in Ermelo, The Netherlands. Two selection events as well as a list of pre-selected horses based on their achievements were used to draw up the long list.
The long list was made based on the results of the championships of the two breed societies in Denmark: the 2016 Danish Warmblood Young Horse Championships (Herning) and the 2015 Danish Young Horse Championships (Odense). Two further selection events were held for west based riders in Vilhelmsborg on 28 May 2016 and east riders in Ringsted on 29 May 2016.
The first observation trial for the long-listed pairs will be held on 11 June 2016 in Vilhelmsborg. The team will be announced after a final selecion competition on 1 - 2 July 2016 in Vlhelmsborg.
The long-listed horses are:
5-year olds
Antobello (by Ampere x Fürst Heinrich)
Bonjour Majlund (by Bøgegårdens Boney M x De Noir)
China Skovvang (by L´Espoir x De Noir)
F.A. Hallow (by Temptation x Solos Landtinus)
Freestyler (by Fürst Függer x Bøgelys Camaro)
Heiline's Danciera (by Fürstenball x  De Niro)
Jukebox  (by Jazz x Rubinstein)
Kamar´s Don Noir Hit e (by Don Romantic x De Noir)
Kut´n Move  (by Imperio x Le Rouge)
La Fallulah  (by Lancelot x Milan)
Liva Enshøj  (by L´Espoir x Midt-West Ibi-Light)
Molière (by Fly Society xx x Cosmir)
Rockson (by Rockefeller x Sorento)
Polka Sensation Nexen (by Sandro Hit x Temple Wind xx)
Treasure (by Come Back II x Fanal Prydsholm)
Zafari Søholm (by Zack x Solos Landwind)
6-year olds
Zee Me Blue  (by Zack x Don Schufro)
Egebjerggårds Dutchmann (by Sandreo x Sam-Sam)
Fiontini  (by Fassbinder x Romanov)
Fiontina (by Fassbinder x Romanov)
First Ballerina Macohl (by Fürstenball x Schwadroneur)
Fredals Fountain  (by Fürstenball x Stedinger)
Fürstenblick (by Fürstenball x Bernstein)
Hot Spot (by Okavango x Induc)
Kipling (by Hofrat x Hohenstein)
Lady Legacy (by Lord Loxly x Schwadroneur)
Skovlygårds Faust (by Fürstenball x Milan)
Tørveslettens Fifty-Fifty (by Fürstenball x Stedinger)
Vadestedet´s Daylight (by De Noir x Akinos)
Vincent Maranello  (by Zack x Future Cup)
Wilson Stensvang (by Wilkens x Don Schufro)
Photo © Ridehesten
Related Links
Jukebox and Fredendals Fountain Win 2016 Ringsted Danish WCYH Selection Trial
Danish Selection Procedure for 2016 World Championships for Young Dressage Horses
Eurodressage Coverage of the 2016 World Young Horse Championships