USPREA Breeding News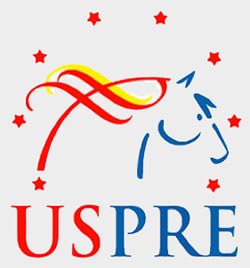 The 2016 California High Point Series commenced with a large CDI at the Del Mar National. There were new faces and many up-and-coming PRE pairs to watch, but the winners of this first of six High Point shows were the seasoned veterans of the show ring.
This USPRE High Point program is designed to encourage PRE riders of all levels to train and compete in rated dressage shows. The USPRE High Point award is available at any USDF dressage show around the country when organized by members. Currently, the program has developed series' in two locations: Florida and California.
The schedule of shows where USPRE High Points are awarded is posted here. Grand Champions of the series' are awarded a USPRE riding jacket.
International (CDI) Levels: Marques XXXVI--Grand Prix 65.200
Rider/Owner : Rhea Scott and Sabine Schut-Kery
National Levels OPEN:  Receloso XXXV – First Level 71.324
Rider: Catherine Chamberlain
Owner: Stephen Strunk
FEI Levels OPEN:  Orive Yet - Prix St. George 67.895
Rider: Barbro Ask-Upmark
Owner: Alan Reese
Congratulations to the winners! Check back for more results as the CA season heats up.
For more information about shows, or to sign up for the High Point series, see https://www.usprea.com/uspre-high-point-program/ .
Related Links
USPRE Announces Dates and Locations for 2016 High Point Series in California and Florida
Vaquero HGF and Churro Receive 2016 PRE High Point Palm Beach Derby Award
First 2015 USPRE Florida High Point Challenge Brings Out New Pairs