2016 World Championships for Young Dressage Horses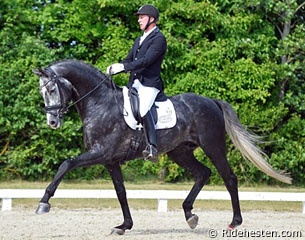 The Danish selection competitions for the 2016 World Young Horse Championships in Ermelo kicked off this weekend with the Ringsted qualifier on 29 May 2016 for the eastern based riders in Denmark. The 5-year old Jukebox and the 6-year old Fredensdal Fountain became the winners of their age classes.
In the 5-year old division Michael Sogaard steered the Danish bred Jukebox (by Jazz x Rubinstein) to victory with a solid 9.22 total score. The chestnut scored 9.4 for trot, 9 for walk, 9.2 for canter, 9 for rideability and 9.5 for potential. Lotte Wiuff Straarup and the Danish bred F.A. Hallow (by Temptation x Solos Landtinues) were the runners-up with 8.9. The Danish warmblood got 8.8 for walk and trot, 9.5 for canter, 8.2 for rideability and 9.2 for potential.
Sogaard also cashed in the money in the 6-year old division aboard his grey Danish warmblood stallion Fredendals Fountain (by Furstenball x Stedinger). The stallion scored a total of 8.480 and got 9.2 for trot, 7.3 for walk, 8.6 for canter, 8.5 for rideability and 8.8 for potential. Jan Moller Christensen and the bay Danish bred Furstenblick (by Furstenball x Bernstein) were second with 8.340. The tall bay Furstenblick got 8.7 for trot, 7.7 for walk, 8.8 for canter, 8.0 for rideability and 8.5 for potential.
Photo © Ridehesten
Results - 2016 Danish WCYH Selection Trial - Ringsted
5-year olds
1. Michael Søgaard - Jukebox -  9.220    1
2. Lotte Wiuff Straarup - F.A. Hallow - 8.900
3. Karina Høybye - Ejerbaekgards Jameson - 8.720
4. Andreas Larsen - Zif Zhanel P - 8.400
5. Dennis Kjær  - Polka Sensation Nexen -  8.360
6. Jacob Nørby Sørensen - Amplamento -  8.320
7. Annitta Duus - Atterupgaards Kingston - 8.060
8. Jacob Nørby Sørensen  - Fine Step S -  8.000
9. Elenore Simberg - Brooklyn - 7.700
10. Jim Rasmussen  - Loboss Donya -  7.680
11. Frederico Mexia de Almeida - Sobakkehus Thanatos - 7.620
12. Nanna Skodborg Merrald - It's Mazani -   7.600
13. Jannie Surrow Hedegaard - Stald Majbol's Sungard - 7.220
14. Elenore Simberg - Vestermarkens Tayler - 7.040
15. Trude Hestengen - Strandagergards Deluxe -   6.980
16. Camilla Hjort Dyssekilde - Drisdal's Flying Tosikko -  6.360
17. Annika Lundberg Ank Dirksen - Zucchero -  6.300
18. Maria N. Kristensen - Halmtofte Blickfang -  6.160
19. Charlotte Buhl  - Mollehojs Mon Ami -   5.600
20. Mathilde Kring Holmgaard - Party Horsebo - 5.460
Elenore Simberg - Sunny Lee's Pentagon - RET
6-year olds
1. Michael Søgaard - Fredensdal Fountain - 8.480
2.  Jan Møller Christensen - Furstenblick -  8.340
3. Katrine Kraglund - Bohemian -  8.300
4.  Anne Troensegaard- Kipling -  8.280
5. Lotte Wiuff Straarup - Thranegaardens Rostov - 8.280
6. Katrine Kraglund  - First Ballerina Macohl - 8.140
7. Pernille Ørum - Safari Klintgaard -  7.960
8. Malene Folmer Jensen - Fyrst Lyng -  7.920
9. Julie Dyrgaard - Ryvangs Zafina -  7.900
10. Thomas Lassen  - Skovlygards Faust - 7.780
11. Pernille Ørum - Gorklintgaards Jericho - 7.760
12. Tina Damgård - Vork's Royal Treasure -  7.760
13. Jim Rasmussen - Lady Legacy - 7.280  
14. Line Rude Hare  - Shane In - 7.140   
15. Dennis Kjær - Liverpool Nexen - 6.900 
16. Katharina Rasmussen - Vong's Ravini - 6.740
Related Links
Danish Selection Procedure for 2016 World Championships for Young Dressage Horses
Eurodressage Coverage of the 2016 World Young Horse Championships