British Dressage News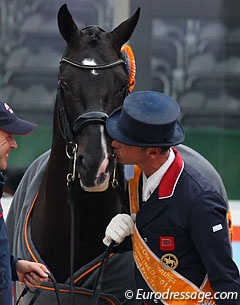 The identity of the buyer who acquired Carl Hester's 15-year old Dutch warmblood stallion Uthopia at Wilsons' executorial auction on Friday 27 May 2016, is still unknown, but Carl Hester told Eurodressage that the person is apparently Irish.
Hester exclusively told Eurodressage that the buyer's identity is "apparently Irish." Wilsons Auctions has the details of the buyer, but will not release them. The auctioneers also stated that the person could have been a middle man. So far, Uthopia still has to be paid for.
"We know the registered details but we're yet to speak to them," Ian Wilson told Horse and Hound on Friday night. "The bid is possibly on behalf of someone else. I can't say I recognise the bidder's name. Now we've done our job with Uthopia and the buyer has a couple of days to pay."
Hester has been unable to secure the horse for himself and told Eurodressage that the buyers have until Tuesday to pay for the horse. Although he has picked up that the buyer is Irish, "no one (has) contacted me yet."
Wild facebook speculation automatically led to Germany's biggest stallion owner Paul Schockemohle being pointed out as the buyer, but his right hand Christoph Hinkel immediately set the record straight and stated that Schochemohle, who stands Uthopia's sire Metall at his station in Muhlen, did not acquire the stallion.
Photo © Astrid Appels
Related Links
Carl Hester's Uthopia Sells at Auction for £165,000
Major Interest from All over the World for Uthopia
Carl Hester Ready to Secure Uthopia's Future at His Yard
Wilsons Auctions Takes Welfare of Uthopia Very Seriously
Carl Hester "Appalled" that Uthopia will be Auctioned
Olympic Champion Horse Uthopia to be Sold at Auction Without Reserve