Dutch Dressage News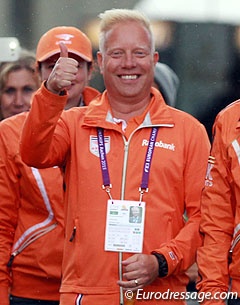 Dutch Olympic team candidates  will be having a window of one month to prove right form and fitness for the Rio selection. Maarten van der Heijden, the technical director of the Dutch Equestrian Federation, stated that form and fitnes closest to the Rio dates are what counts.
The Dutch Olympic selection process depends on only two shows which take place within one month time: the 2016 CDIO Rotterdam on 23 - 26 June and the Dutch Dressage Championships on 15 - 17 July 2016. They are allocated as the official Dutch observation/selection shows.
"For our dressage riders the real selection tract still has to start. This is a conscious choice," said Van der Heijden. "We have to peak in Rio so the form right before Rio is what counts. You can peak now, but if that's it than it's no use to us. This counts for all disciplines but for dressage they work to a top form in a differen way than with show jumping and eventing. The dressage riders know the tract and have co-ordinated their program to that. For each individual combination there will be a different road to Rotterdam and the Dutch Championships."
The Dutch equestrian federation will announce the Dutch Olympic team on Sunday noon 17 July as the definite date for entry is on Monday 18 July.
"For Rio the horses don't have to go into quarantine, but they need to be isolated for 15 days," said Van der Heijden. "It's a less strict form of isolation. In principle the horses can stay at their own stable and yard in that period, but not leave the premises."
Holland will be fielding a team for the CDIO Nations' Cup leg in Rotterdam, but other team candidates will be contesting the 3* Grand Prix class.
"The same judging corps will be officiating in the CDI 3* competition. Because it's the same judges, we can make an excellent comparison," Van der Heijden added.
Photo © Astrid Appels
Related Links
Long List of 2016 Dutch Rio Olympic Team Candidates Announced
Johan Rockx Appointed Assistant to Dutch Team Trainer Wim Ernes