Oldenburg Breeding News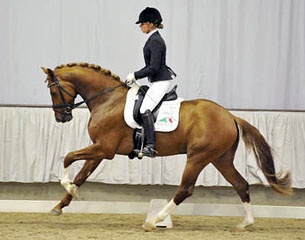 The Rhinelander stallion Villeneuve and the Holsteiner bred Tocanto were the stand out dressage stallions at the 2016 May 14-day Stallion Perforamnce testings held in Schlieckau and Neustadt/Dosse.
The May 14-day testing in Schlieckau began 5 May and concluded and 18 May 2016 and was normally designated for show jumping bred stallions, even though a bunch of dressage bred colts participated. The best performing dressage stallion was Ann Kathrin Linsenhof's Holsteiner bred Tocanto (by Totilas) out of a jumper mare by Canturo x Corofino. The 3-year old colt scored the highest overall total of the dressage stallions. He scored 8.10 overall with an 8.21 for dressage and 7.93 for show jumping.  The Dutch bred Ferro offspring Iron Man scored 8.08 overall with 8.63 for dressage and 7.25 for show jumping. The highest dressage score was achieved by Ullrich Kasselmann's Foundation colt out of top mare Samira. The bay got 8.03 in total but 9.20 for dressage and only 6.40 for jumping.
At the May 14-day testing in Neustadt/Dosse (6 - 19 May 2016) for dressage horses 13 stallion participated. Sissy Max-Theurer's 4-year old Rhinelander bred Villeneuve (by Vitalis x Dancier) was the high scorer with a total of 8.88. He got 9.13 for dressage and 8.10 for show jumping. The second best scoring colt was the jumper Caracciala (by Chin Champ) with a total of 8.60. He was followed by Max-Theurer's Westfalian colt Dimitroff (by Dimaggio) with 8.33.
Related Links
Two Dressage Bred Colts Approved at 2015 Holsteiner Stallion Licensing
Borsalino, Helium, Ballon d'Or Stand Out in 2016 Spring Stallion Performance Testings
Libertad Wins First 2016 Stallion Performance Testing in Schlieckau