2016 Bundeschampionate Qualifier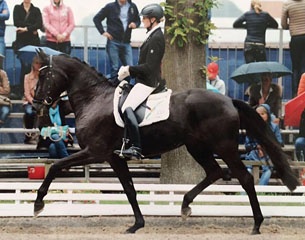 The 5-year old Finest and the 6-year old Didi De La Cour won the Bundeschampionate qualification classes held at the Anakenenhof equestrian centre in Hamburg, Germany, on 11 May 2016. Twenty-three 5-year olds and eight 6-year olds gathered at Anakenenhof for this qualifier.
Christin Schutte and the licensed Hanoverian stallion Finest (by Furstenball x Wie Weltmeyer) bested the 5-year old  L-dressage horse class with a total score of 8.6. The black stallion and the former European young rider champion scored 9 for trot, 8.5 for walk and canter, 8 for submission and 9 for general impression. Esther Maruhn and the Hanoverian gelding Der Wedemärker (by Dancier x Weltmeyer) were the runners-up with 8.5. The chestnut got 9 for trot, 8 for walk, and 8.5 for canter, submission and general impression.
Katalin Garrn and the 6-year old Hanoverian Didi De La Cour (by Desperados x Lanthan) won the M-level dressage horse test with 8.2. The horse scored 8.0 for walk, trot and canter, and 8.5 for submission and general impression. Lena Stegemann and Don Toyamo (by Don Romantic x Sandro Hit) finished second with 8.1. The pair got 8.5 for walk and trot, 8 for canter, 7.5 for submission and 8 for general impression.
Results - 2016 Bundeschampionate Qualifier - Anakenenhof
5-year olds
1. Finest (by Fürstenball x Wie Weltmeyer) - Schütte,Christin -  9.00    8.50    8.50    8.00    9.00 --- 8.60
2. Der Wedemärker (by Dancier x Weltmeyer) - Maruhn,Esther  -  9.00    8.00    8.50    8.50    8.50  --- 8.50  
3. Don Monet(by Don Nobless x Rascalino) - Frieling,Sandra  -  8.50    8.00    8.00    8.00    8.50  ---  8.20   
4. Faradai (by Fürstenball x Lanciano) - Tewes,Melanie  - 8.00    8.00    8.00    8.50    8.00  ---  8.10
5. Rock for Me (by Rock Forever x Florencio) - Fischer,Lukas  -  8.50    7.00    8.50    8.00    8.00  ---  8.00 
5. Sweet Hero (by Sir Donnerhall x Bonheur) - Sudhölter,Kathrin  - 9.00    7.00    8.00    8.00    8.00  ---  8.00 
7. Seymour (by Sarkozy x Don Primero) - Hilger,Christin  - 8.00    7.50    7.50    7.00    8.00   --- 7.60   
7. Rocco Granata (by Rock Forever x Florestan) - Stegemann,Lena  - 8.50    7.50    8.00    6.50    7.50   --- 7.60   
9. Quindale (by Quaterback x Samarant) - Gehrmann,Moritz  - 8.00    6.50    7.50    7.50    7.50  ---  7.40   
10. Amidala (by Ampere x Rotspon) - Hein,Stefanie  - 7.50    7.50    7.50    7.50    7.50  --- 7.30   
10. Sunrise H (by Scolari x Dream of Glory) - Krüger,Hannes  - 8.00    8.00    7.00    6.50    7.00   --- 7.30   
10. Inclusive (by All Inclusive x King Arthur) - Lütt,Hannes - 7.50    7.00    7.00    7.50    7.50  --- 7.30   
10. Daimaru (by Dressage Royal x Wolkenstein II) - Meyn,Jeannette  -  7.00    8.50    7.00    7.00    7.00  --- 7.30   
10. Divina G (by Lantino x Esteban xx) - Suchalla,Markus  - 8.00    6.00    7.50    7.50    7.50  --- 7.30   
15. Fragrance (by Fahrenheit x Conteur) - Hilger,Christin  - 7.50    7.00    7.00    7.00    7.00  --- 7.10   
15. Talandra's Rose (by Self made x Cordial Medoc) - Krüger,Hannes  -  7.50    7.00    7.00    7.00    7.00  --- 7.10   
15. Der Bachelor (by De Niro x Fürst Heinrich) - Lindemann,Philipp - 7.00    7.00    7.50    7.00    7.00  --- 7.10   
15. Elfenkönig (by Edward x Amerigo Vespucci xx) - Strecker Dr.,Maximiliane  -  7.50    7.00    8.00    6.00    7.00  --- 7.10   
19. Claretto (by Clarimo x Caletto) - Suchalla,Markus  - 7.50    6.50    7.50    6.50    7.00  --- 7.00   
20. BreFood's Ferragamo (by Fürstenball x Sandro Hit) - Wolf Dr.,Saskia  - 7.00    6.00    7.50    6.50    7.00  --- 6.80   
21. Diarolus (by Diarado x Carolus) - Ehlers,Rike  -  6.50    6.50    6.00    6.50    6.50  ---  6.40   
Divina C (by Dark Dionysos x Stedinger) - Krüger,Hannes  - RET
Grandessa (by Sir Donnerhall x Rohdiamant) - Papin,Angelina  - RET
6-year olds
1. Didi De La Cour (by Desperados x Lanthan) - Garrn,Katalin  -  8.00    8.00    8.00    8.50    8.50  --- 8.20
2. Don Toyamo (by Don Romantic x Sandro Hit) - Stegemann,Lena - 8.50    8.50    8.00    7.50    8.00   --- 8.10
3. Lutalo (by L'Ami x Levisto) - Schneider,Matthias  -  8.50    8.50    8.00    7.00    8.00   --- 8.00 
4. Fürstenhof (by Fürst Grandios x Weltmeyer) - Senftleben,Birte  -  7.50    8.00    8.00    7.50    7.50  ---   7.70
5. Sanciscus (by Sancisco x De Niro) - Engeler,Andrea  - 8.00    7.50    8.00    6.50    7.50  --- 7.50   
6. Farrell (by Fürst Nymphenburg x Earl) - Otten-Willers,Jessica  - 7.50    7.50    7.50    6.50    7.00    --- 7.20   
7. Dark Rouge (by Don Primus x Rubinstein) - Eggerstedt,Petra  - 7.50    7.50    7.00    6.50    7.00   ---   7.10   
8. London (by Londontime x Waterford) - Kneese,Felix  - 7.00    6.50    6.50    6.00    6.50   ---   6.50
Related Link
Eurodressage Coverage of the 2016 Bundeschampionate