2016 German Championships for Professional Dressage Riders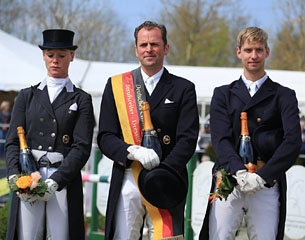 The Krefeld based Heiner Schiergen became the winner of the 2016 German Championships for Professional Dressage Riders held at the equestrian centre Massener Heide in Unna-Massen, Germany, on 29 April - 1 May 2016. He renewed his title for the second, consecutive time by winning the horse change finals against Marion Wiebusch and Tobias Nabben.
The 2016 German Championships for Professional Dressage Riders include three rounds. The first one - the Grand Prix - was ridden on Friday 29 April and sixteen combinations contested that class. It was won by Tobias Nabben on his 15-year old Oldenburg Peppo (by Pik Noir x Noble Roi xx) with 69.933%. Ulrike Kick and the 14-year old Bavarian bred Ruling Pedro (by Rubin Royal x Landwind II) were second with 67.467%, followed by Heiner Schiergen on the 14-year old Rhinelander mare Leia (by Lebenskunstler x Fidermark) with 67.167%.
The second round - the Grand Prix Special - on Saturday 30 April was won by Marion Wiebusch on Ann Kathrin Linsenhoff's 16-year old Oldenburg Wustensohn Sahib (by Wolkentanz II x Rubinstein) with 70.261%. Schiergen moved into second place with 69.739% and Nabben landed third spot with 68.758%
The actual title is decided in a finals with horse change in which all three riders have to do the Short Grand Prix on each other's horses. Schiergen achieved the highest total of 2320 points after his rounds on Wustensohn Sahib, Peppo and Leia. Marion Wiebusch scored the silver medal with 2292 points and Tobias Nabben got the bronze with 2239.50 points. Schiergen also won the title in 2015.
Photo courtesy Massener Heide
Related Links
Marcus Hermes Edges Out Timpe in 2014 German Professional Dressage Riders Championships
Thomas Wagner Wins the 2013 German Professional Dressage Riders Championships
Hartwig Burfeind Wins 2009 German Championships for Professional Dressage Riders
Photo Report: 2008 German Championships for Professional Dressage Riders
Hubertus Schmidt wins 2004 German Professional Dressage Riders Championship