Trakehner Breeding News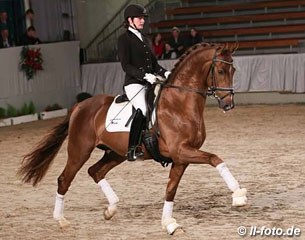 Three more spring stallion performance testings concluded at the end of April with Borsalino winning the first Schlieckau Dressage Sport Testing, while Helium and Ballon d'Or were the winners of the 14-day testing in Schlieckau and Marbach.
The Sport Test for dressage horses takes four days and the spring edition took place in Schlieckau on 26 - 28 April 2016. Only six young 2012 born dressage stallions participated and the 2014 Westfalian licensing champion Borsalino (by Boston) scored the highest with a total of 8.89. He scored 9 for trot, 9.5 for canter, 8.5 for walk, 8.7 for rideability and 8.8 for general impression. The runner is Descadero (by Danone I) who finnished on a total of 8.24 points with 8.5 for trot and 8 for walk and canter, 8.5 for rideability and general impression.  The other participants were Le Chic (by Laurice - 7.74), Christ's Clooney (by Christ - 7.67), Rock My Soul (by Rock Forever - 8.24) and De Coolman (by De Niro - 6.69).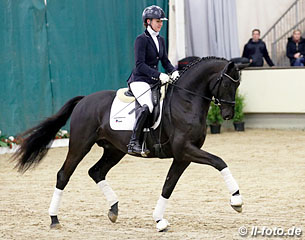 Twenty-five colts participated in the 14-day testing in Schlieckau from 15 - 28 April 2016. The top scoring stallion was the Danish bred Trakehner Helium (by Millennium) with an overal total of 8.58 points. He got 9.25 and 9.0 for character, 8.5 for trot, 8 for canter and 7.5 for walk. With 8.5 for rideability and 8.5 for jumping talent. The guest judge rider gave him 9.25 for rideability.  Destacado (by Desperados) was the runner-up with 8.35 points overall. He achieved the highest dressage score of all (8.68 points).
The 14-day testing in Marbach, which took place 15 - 28 April 2016, only featured jumper bred stallions and the winner was Ballon d'Or (by Balou de Rouet) with 8.65.
Photos © LL-foto
Related Links
New Format for German Stallion Performance Testing Launched in 2016
Libertad Wins First 2016 Stallion Performance Testing in Schlieckau