2016 Bundeschampionate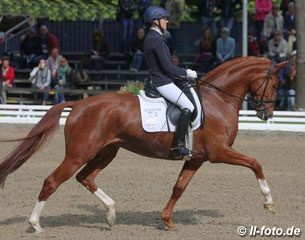 The 5-year old Farbenfroh H and the 6-year old .. became the winners of the small Bundeschampionate qualifier held at the regional show in Hildesheim, Germany, on 3 - 4 May 2016. Although the Hildesheim show is not officially listed as a Bundeschampionate qualifier on the FN website, the score sheets do indicate the classes count for Warendorf qualification.
Eleven 5-year old horses lined up for the L-level dressage test and three achieved the qualification criterium of 8.0 or higher to make it to the 2016 Bundeschampionate, held annually the first week of September in Warendorf, Germany. Sandra Frieling and the Hanoverian bred Farbenfroh B (by Furst Nymphenburg II x Londonderry) topped the board with a very convincing 8.7, edging out Svenja Bachmann on Baumann's Apollon (by Ampere x Davignon), who placed second with 8.3.
The first 9.0 score of the season has been awarded to Katja Slupinski on Dr. Best, a German Sport Horse bred gelding by Dr. Jackson x Roy Black. The pair aced the 6-year old M-level division in a small field of seven competitors. Esther Maruhn and the mare Bellena (by Belissimo M x Welser) were a strong second with 8.5.
Photo © LL-foto
Results - 2016 Bundeschampionate Qualifier - Hildesheim
5-year olds
1. Sandra Frieling  - Farbenfroh B (by Fürst Nymphenburg II / Londonderry) - 8.70
2. Svenja Bachmann - Baumann's Apollon (by Ampere / Davignon) - 8.30
3. Matthias Klatt  - Sweet Carolina (by Sir Donnerhall I / Caprimond) - 8.10
4. Sandra Frieling - Don Monet (by Don Nobless / Rascalino) - 7.80
5. Ann-Kristin Arnold  - Finest Highness (by Fairbanks / His Highness) - 7.60
6. Greta Heemsoth  - Stiene von der Weide (by Sir Salvatore / Latimer) - 7.40
7. Rike Schnieder - Die Clara von der Weide (by Dancier / Lanthan) - 7.20
8. Svenja Bachmann  -Burberry (by Bonifatius / Wolkentanz I) - 7.20
9. Ute Bußmann  - Fürstin von der Heide (by Fürstenball / Münchhausen) - 7.10
10. Carolin Miserre  - Severino Hit (by Samba Hit I / Weltmeyer) - 7.10
Esther Maruhn - Der Wedemärker (by Dancier / Weltmeyer) - RET/ELI
6-year olds
1. Katja Slupinski  - Dr. Best (by Dr. Jackson x Roy Black)  - 9.00
2. Esther Maruhn  - Bellena  (by Belissimo M / Welser) - 8.50
3. Wolfhard Witte  - Livaldon (by Vivaldi / Donnerhall) - 8.00
3. Maxi Kira von Platen  - Savoy (by San Bernadino 3 / Weltmeyer) - 8.00
3. Sissy-Nadine Braband - S.Oliver  (by San Amour I / Don Primero) - 8.00
6. Wolfhard Witte  - Donatus 122  (by Don Frederico / Weltruhm) - 7.80
7. Nadine Husenbeth - Sanchero (by San Amour I / Bonheur) - 7.10
Related Link
Eurodressage Coverage of the 2016 Bundeschampionate