2016 Bundeschampionate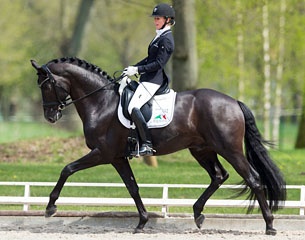 The 5-year old Fursten-Look and the 6-year old Bluetooth became the winners of the very first Bundeschampionate qualifier of the 2016 show season, held at the national equestrian event in Redefin, Germany, on 29 April - 1 May 2016.
Nine horse-and-rider combinations contested the 5-year old division at L-level and Norwegian Isabel Freese aced the class aboard Paul Schockemohle and Lone Boegh Henriksen's Hanoverian stallion Fursten-Look (by Furstenball x Londonderry). The black stallion scored 9.5 for trot, 8.5 for walk, 9.0 for canter, 7.5 for submission and 9.0 for general impression to average a winning total of 8.7. Manuel Bammel and the Hanoverian bred Brunello HR (by Benetton Dream x Stedinger) were the runners-up with 8.3.. The dark bay gelding scored 8.5 for walk and trot, 8 for canter and submission and 8.5 for general impression.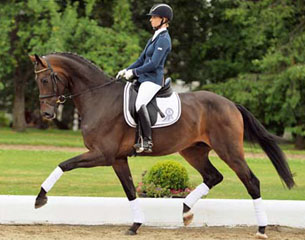 In the 6-year old division  Hof Kasselmann's assistant trainer Steffen Frahm steered Elena Knyaginicheva's Oldenburg gelding Bluetooth (by Bordeayx x Riccione) to victory in the M-level dressage horse test. The bay gelding scored a total of 8.2 and received 9 for trot, 8 for walk, 8.5 for canter, 7 for submission and 8.5 for general impression. Johanna von Fircks placed second on her father Helmut's Westfalian gelding Amadeus (by Ampere x Davignon) with a total of 8.1.. The bay gelding got 8.5 for trot, 8 for walk and canter, and 8 for submission and general impression.
Results - 2016 Bundeschampionate Qualifier - Redefin
5-year olds
1. Fürsten-Look - Isabel Freese -  9.5    8.5    9.0    7.5    9.0 ---  8.70
2. Brunello HR - Manuel Bammel - 8.5    8.5    8.0    8.0    8.5  ---  8.30
3. Forbes - Borja Carrascosa Martinez - 8.5    8.0    8.0    7.5    8.0 ---  8.00
4. Flanell - Vera Nass -  8.5    7.5    7.5    7.5    7.5 ---   7.70
5. Lonken's Fiandro - Anna-Sophie Fiebelkorn - 8.0    6.5    8.0    7.5    7.5 ---  7.50
5. Budhi - Steffen Frahm -  8.5    6.5    7.5    7.5    7.5 ---   7.50
7. Glücksruf II - Libuse Mencke -  7.5    7.5    7.0    7.0    7.5  ---  7.30
7. Rockpool - Anna-Sophie Fiebelkorn - 8.0    6.5    7.5    7.0    7.5  ---  7.30
9. Calandro - Lena Günnel - 7.5    7.5    7.0    5.5    7.0 ---   6.90
6-year olds
1. Bluetooth - Steffen Frahm - 9.0    8.0    8.5    7.0    8.5 ---    8.20
2. Amadeus von Nymphenburg - Johanna von Fircks - 8.5    8.0    8.0    8.0    8.0 ---   8.10
3. Belissario - Anna-Sophie Fiebelkorn - 8.0    8.5    8.5    7.0    8.0 ---    8.00
3. Fuggers Black Pearl - Ronald Lüders - 8.0    7.5    8.5    8.0    8.0 ---    8.00
5. Sanciscus - Andrea Engeler -  8.0    7.5    8.0    6.5    7.5 ---    7.50
6. Fürstenhof - Birte Senftleben -  7.5    8.0    7.5    6.5    7.5  ---    7.40
6. Dallas - Libuse Mencke -  7.5    7.5    7.5    7.0    7.5 ---    7.40
8. Quantaz - Ronald Lüders - 8.0    6.0    7.5    6.5    7.5  ---    7.10
9. Rosentraum - Kirsten Sieber - 7.0    8.0    6.5    6.5    7.0 ---    7.00
Related Link
Eurodressage Coverage of the 2016 Bundeschampionate