British Dressage News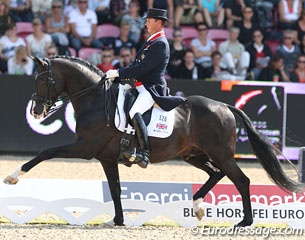 British Olympian Carl Hester has announced that he has lined up a set of owners who are willing to invest in Uthopia to secure the 15-year old stallion's life at Carl's yard in Great Britain.
After the news broke that Uthopia is to be sold in an executorial auction without reserve by Wilsons Auctions on 27 May 2016, a huge amount of fans voiced their opinion to start a crowd funding campaign to secure Uthopia's life and retirement with Carl.
However, although the support has been much appreciated, Hester has not officially backed any crowd funding campaign that has started.
"I would just like to say how amazing it is that so many people have been in support for helping us keep Uthopia, the enthusiasm of the equestrian community is incredible! We have hopefully arranged enough money through owners to keep Uthopia's future secure."
Carl has now urged to stop any crowd funding efforts as he will be attempting to secure the horse himself.
"So at this time, although everyone's generosity is hugely appreciated, I would like to ask that all Go Fund Me and other fundraising pages are put on hold, please do not donate. I will keep everyone updated on any progress, but your support, kind words and love for Uti have truly amazed me."
Hester confirmed to Eurodressage that it is not possible for him to reach an agreement with Wilsons Auctions beforehand, but has to participate in the bidding to obtain ownership of Uthopia.
"Can not stop it (the auction), so would still have to bid," he told Eurodressage
Photo © Astrid Appels
Related Links
Wilsons Auctions Takes Welfare of Uthopia Very Seriously
Carl Hester "Appalled" that Uthopia will be Auctioned
Olympic Champion Horse Uthopia to be Sold at Auction Without Reserve