British Dressage News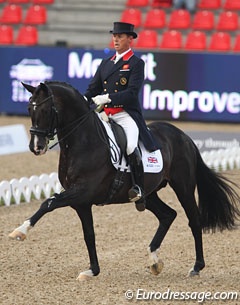 As the shocking news of the executorial sale of Uthopia by Wilsons Auctions spread all over the dressage world, British dressage riders have come to the fore showing their support for Hester and concern for the welfare of Uthopia who apparently is severely injured.
The 15-year old KWPN stallion Uthopia was last competed at the 2016 CDI-W Amsterdam in January, but according to statements made by British Olympian Richard Davison to Horse and Hound, Uthopia is severely injured.
"This horse has received ongoing veterinary care over the past four years and regular therapy from Carl's home team," Davison stated.  "Without that care and knowledge, I am worried about Uthopia's welfare. I'm told the latest findings are that he needs another year off and, if that is the case, then in my view it is time to retire this horse."
This remark strikingly contradicts the numerous statements that Carl Hester has made over the years about Uthopia's rare participation in  competitions since 2013. He always denied health issues and said that Uthopia was not being competed because of the ongoing legal issues concerning the ownership of the horse.
Wilsons Auctions issued a follow-up statement this afternoon 28 April 2016 that it "take(s) the welfare of Uthopia very seriously. We recognise the importance of maintaining the level of expert care and attention that the horse has previously enjoyed. Uthopia will reside at his current stable yard and be cared for by the same people, throughout this process. It is of course possible that he may continue to reside at his current stable yard after the sale has concluded, dependant of course on the identity and intentions of the purchaser."
To Wilson Auctions the intentions of the future buyer are irrelevant. "We welcome bids from any interested party and it is our wish that the eventual purchaser enjoys owning the horse for many years to come."
Supporters of Uthopia have voiced their intention to start a crowd funding campaign to create a syndicate of owners who would allow the horse to be retired at Carl's.
"Uthopia is a icon of the nation as Red Rum was for racing," a concerned fan told Eurodressage. " If a syndicate was set up it could be on the lines of people being entitled to a yard visit to 'meet' him. This would also boost the profile of dressage."
Wilsons Auctions will soon make available an information pack on Uthopia, which will disclose all information in relation to the horse.
Photo © Astrid Appels
Related Links
Carl Hester "Appalled" that Uthopia will be Auctioned
Olympic Champion Horse Uthopia to be Sold at Auction Without Reserve
Show Career Carl Hester's Uthopia on Hold
The Curtain Falls for Carl Hester and Uthopia: 2012 CDI-W London Kur Final Show