2016 CDI Tryon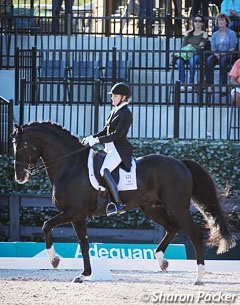 Canadian Ashley Holzer and Dressed In Black swept the big tour classes at the inaugural CDI Tryon on 22 - 24 April 2016 held at the brand new Tryon International Equestrian Center in North Carolina, U.S.A. A small field of eleven riders contested the big tour and only seven lined up for the small tour division.
Holzer Wins Grand Prix
Holzer and Dressed In Black earned a 70.320% for the win in the Grand Prix, while Chris Von Martels (CAN) and Divertimento received a 69.880% for second place. Megan Lane (CAN) and Caravella rounded out the top three with a 68.580% to complete a Canadian sweep.
Holzer and Dressed In Black, a 2005 Westfalian stallion (by Dresemann x Silvano) owned by Holzer along with Dr. Diane Fellows, made a strong return to CDI competition. The pair only contested a few national shows in Wellington this past season and did their last CDI in March 2015. Holzer was pleased with their performance in Tryon.
"This is the first CDI for us in a long time," said Holzer. "It's different when you haven't done a CDI in a while because you're a bit rusty. It was great that I had a few days here to get him in the ring. He's never seen a big ring like this before and there is a lot of atmosphere. I'm thrilled with the way he handled himself in there. The fact that he went in and felt like a teammate and a player was incredible," noted Holzer, as she described her test, which earned the pair a score above 70%. "I was not pushing for a big test on him this time out. I wanted to go in and not over face him with the ring and I think that to me, as a rider, that is the nicest feeling. Instead of them feeling scared and nervous, they're confident and trying their best for you."
While in Florida for the winter circuit, Holzer focused on fitness and increasing strength with Dressed In Black. She explained, "We really worked on fitness. When you go in and do a Grand Prix it is one thing, when you go in and do a Grand Prix where they need to put more effort in, that's a lot. We've been focusing on mostly getting him to a place where he's comfortable and fit."
Holzer's student, Chris Von Martels, followed her in the standings, placing second aboard Divertimento, owned by Lövsta Stuteri. Von Martels took over the ride on Divertimento this past winter and the pair has continued to grow their relationship with each other as they gain more competition experience.
"I was pleased with the entire test today. Again, like Ashley said, it's a very electric atmosphere in there and it's just a huge stadium," commented Von Martels. "I was mostly happy that, even though it is still a relatively new relationship, it seems that with each show we're becoming more comfortable with each other and are starting to know what to expect. Our goal today was to ride a clean and accurate test and we were able to do so. That brings us both to a new level of confidence. Looking forward, we'll look to maintain that accuracy within the test and add a little bit more of a dynamic element," he continued.
Divertimento is typically hot horse who can be reactive to sound in the arena, but his trust in Von Martels is evident and the pair handled the atmosphere of the George Morris Arena with ease.
"I really believe the horses who tend to be hotter in the ring, when you earn their trust and confidence, they're the ones who try the hardest for you," he said. "Maybe it takes a little bit longer and it can be a bit challenging, but I really love this horse and I think he's fantastic. I'm thrilled that we were able to work this out with his owners and I know that when you really win over his heart he'll give you everything he has."
Dressed In Black Takes the GP Kur
Holzer and Dressed In Black also secured the Grand Prix Freestyle victory with a score of 71.502%. James Koford (USA) and Don Principe finished in second place with a 66.100%, while Nora Batchelder (USA) and Bahai (by Baroncelli) earned a 66.050% in their second FEI competition together for third place.
Holzer and Dressed In Black performed their first FEI Grand Prix Freestyle of the season, riding with poise and confidence in the George H. Morris Arena. The test was a good experience for both horse and rider, while Holzer admitted she made a few rider errors, which impacted their score.
"I would say that I have not ridden this freestyle routine many times and I was just really trying to navigate my way through and he doesn't know the pattern that well yet," said Holzer. "He hasn't ever been out into anything like this and I was just trying to keep him calm and steady through it. There were some mistakes in the twos that were not his fault. What's amazing to me though is that he goes into that ring, which has all of that feeling and electricity and he really tries hard. He's doing the very best he can for where he is right now in his fitness level. I'm just very proud of him."
James Koford and Don Principe have a longstanding partnership, as the two have been working together for more than seven years. Koford noted that gaining experience, no matter the tenure of the relationship, is still very important to the pair.
"He's been my buddy for a long time. This is his eighth year at Grand Prix so we've had this freestyle since he was nine or ten and now he's seventeen. We pretty much have it down pat," laughed Koford. "It's always fun to ride a freestyle in this atmosphere though. The setting is beautiful  and the crowd was very enthusiastic. I'm very pleased with how it went."
Chris Von Martels and Divertimento Win Grand Prix Special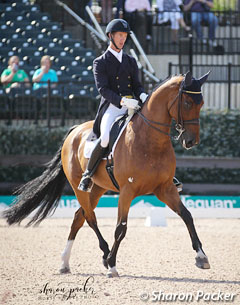 Chris Von Martels piloted Divertimento to their first CDI win together in the Grand Prix Special receiving a 70.490%. Karen Pavicic (CAN) and Don Daiquiri finished in second place with a 69.745%, while Megan Lane (CAN) and Caravella rounded out the top three with a 69.218%.
Von Martels and Divertimento have continued to solidify their partnership and displayed a continued sense of growth and understanding in the ring. Von Martels expressed his excitement with the progress and noted that he felt like this was the best the two have performed together.
"I was very delighted with him. He was very with me and I think today was even more electric in the stadium than yesterday, because there were more spectators here this afternoon," said Von Martels. "He was really in tune with me and waiting on my aids. I really believe that this was the best test I've ridden on him in the way our relationship has gone so far. I'm very happy. I think this is my fifth show with him and each show you learn something new and take something else away from it. Now, I really would like to keep these nice, clean and accurate tests, but add a bit more power and brilliance where I can," he continued.
Karen Pavicic and Don Daiquiri picked up second place with a strong showing, receiving a 69.218% from the judging panel. Pleased with their performance, Pavicic felt as though she entered the ring with more horse behind her leg today than yesterday in the FEI Grand Prix.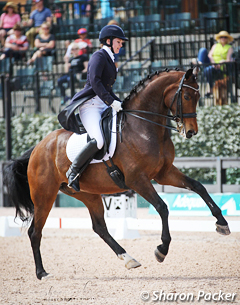 "He was much better today than yesterday. I was happier with my ride overall and I still would like to have a little bit more energy and brilliance within the movements. I was going for a clean test and he felt more energetic and in front of my leg," she elaborated.
Miles and Kellock In Front in Small Tour

Emily Miles (USA) and Floretienne, owned by Leslie Waterman, topped the Prix St. Georges with a score of 69.316%, while Lindsay Kellock (CAN) and Royal Prinz, owned by Teresa Simmons earned second place with a 67.789%. Miles also finished in third place aboard Sir Sherlock, also owned by Leslie Waterman, receiving a 66.316%.
Kellock and Royal Prinz won the Intermediaire I with a score of 67.684%. Jessica Jo Tate (USA) and Kynynmont Gunsmoke's Gideon, owned by Pamela Liddell, finished in second place, receiving a 66.368%, while Emily Miles (USA) and Sir Sherlock, owned by Leslie Waterman, earned third place with a score of 59.263%.
Text GDF press release, edited by Eurodressage
Photos © Sharon Packer
Related Links
Scores 2016 CDI Tryon
Don Principe: Champions, It Runs in the Family
Chris von Martels Leases Vilhelmson's Divertimento for 2016 Olympic Show Season