2016 World Championships for Young Dressage Horses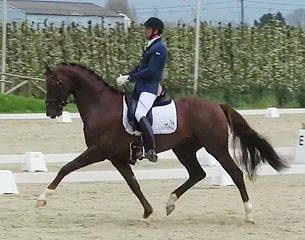 The 5-year olds Lamborghini and Guapo Begijnhoeve and the 6-year old First Lady became the winners of the young horse classes held at the first two Belgian selection trials in Diepenbeek and Sint Truiden for 2016 World Young Horse Championship selection.  The Belgian Young Horse show season has kicked off on 2 April with the first of six qualifiers for Ermelo.
The Belgian selection policy for the 2016 World Championships for Young Dressage Horses in Ermelo, The Netherlands, is that riders need to obtain at least four results at six selection trials held in Belgium from April till June. Each result will bring the rider a certain amount of qualification points and the four riders with the highest points (and not percentages) will be nominated for the World Championships.
This year's Belgian WCYH selection trials are in Diepenbeek (2 April), Sint Truiden (16 April), Welkenraedt (30 April), Heist op den Berg (7 May), Schilde (28 May) and a location to be determined (10 June). If the latter show does not take place it will be on 19 June 2016 in Overijse.
In Diepenbeek Belgian junior team rider Laura Luyten steered her own Belgian warmblood Lamborghini (by Bon Bravour x San Remo) to victory in the 5-year old division with a 78.635% score. Katrien Verreet and the Oldenburg mare Fortalezza Biolley (by Furst Romancier x Codex) were the runners-up with 76.250% and only narrowly edged out Tom Franckx on the liver chestnut Dutch owned Just Wait (by Jazz x Quaterback) , who was third with 76.063%.
In the 6-year old division in Diepenbeek, Julie Dossin and First Lady (by Sir Donnerhall x Johnson) won the class with 72.250% but they were closely followed on their heels by Katrien Verreet on the Oldenburg mare Gallartica Biolley (by Galliani Biolley x Florestan) with 72.167%. Sam Verheyden and the Belgian warmblood stallion Kryptonite Van De Performing Stables (by Detroit x Charming x Weyden) were third with 71.083%.
At the selection trial in Sint-Truiden on 17 April 2016, Dutch Grand Prix rider Tommie Visser aced the 5-year old division on his fiance's Dutch warmblood Guapo Begijnhoeve (by Jazz x Silvano) with a score of 76.552%. Katrien Verreet and the Oldenburg Fortalezza Biolley were once more close to the trophy, but finished second with 75.104 %, followed by Isabel Cool on the Dutch bred mare Glorious (by Krack C x Kigali) with 75.083 points.
In the 6-year old division in Sint-Truiden, Dossin aced the class once again on First Lady, this time with 75.042%. Larissa Pauluis became the runner-up aboard the licensed Dutch bred stallion Barroso (by Bordeaux x Saros) with 74.500%. Verreet and Gallartica Biolley slotted in third with 74.042%.
Results - Belgian WCYH Selection Trial - Diepenbeek
5-year olds
1. Luyten Laura - Lamborghini - 78,635
2. Verreet Katrien  -  Fortalezza Biolley - 76,250 
3. Franckx Tom  - Just Wait  - 76,063 
4. Hendrikx Suraya - Danoon -  75,521   
5. Cool Isabel - Glorious -  74,875  
6. Hegemann Hannelore  -  First Class "N" - 74,833
7. Bervoets Denis - Lars Van Het Kristoffelhof  - 73,521   
8. De Winne Flore - Basali - 73,417  
9. Vandecappelle Ine -  Generaal  - 72,375 
10. Carlens Olivier - Foxtrott Du Jade  -  70,392 
11. Meisch Linda - Goldennettie -  70,354 
12. D Hoore Wouter  -Guess Van De Moerhoek -  69,917
13. Helsen Gert - Laura Ashley  -   69,521  
14. Van Laer Nick - Friendscout -  69,188  
15. Borghys Maarten - Lafite Ter Dolen -   69,104 
16. Laukens Ilka - Firedance -    68,750
17. Martel Shawnee - Fürst De Niro  - 68,625 
18. Bervoets Denis - Guapo Begijnhoeve -  68,333 
19. Vets Charlotte - Fahrenheit Biolley - 67,500  
20. Adriaenssens Kirsten - Garmeur G - 66,896
21. Cappon Mieke -  Laquino  - 64,479 
22. Deryckere Vibeke -  Ginger  - 63,792 
23. Van der Horst Dominique - Wolfshoeve's Go on Top - 63,396   
6-year olds
1. Dossin Julie - First lady  - 72,250
2. Verreet Katrien - Gallartica Biolley -  72,167  
3. Verheyden Sam  - Kryptonite Van De Performing Stables   - 71,083 
4. Heylen Tom -   Kalagan "h"  - 70,292 
5. Michiels Domien - Kokoschka Van De Burggrave  -  70,083 
6. Swagemakers Veronique - Sixth Sense - 69,458 
7. Laevens Kevin -  Kozinsky Vd Dries  -   69,250
8. Teeuwen Anouk  - Die Wette  - 67,635
9. Vandecappelle Ine - Katusha Van 't Wijnhof - 67,583 
10. D'Hoore Brecht - Wolfshoeve's Ferdinand H -  67,458
11. De Greve Bart - Knock-out Van Rozendycke  -  65,542  
12. De Vlieger Andre - Figo - 64,750  
13. Cool Isabel -  Freedom -  64,678
Results - Belgian WCYH Selection Trial - Sint Truiden

5-year olds
1. Visser Tommie - Guapo Begijnhoeve  - 76,552  
2. Verreet Katrien -  Fortalezza Biolley -  75,104 
3. Cool Isabel -  Glorious Coolhorses - 75,083
4. Helsen Gert  - Laura Ashley  -73,740 
5. Van Laer Nick -  Friendscout  -  73,208 
6. Luyten Laura - Lamborghini  -  72,948  
7. Moordtgat Anke  -  Dublin  - 72,406  
8. Van Puijenbroek Rob  - TOP's Gentle  -  71,323 
9. Hendrikx Suraya -  Danoon  -  70,771   
10. Borghys Maarten  - Lafite Ter Dolen -  70,625 
11. Bervoets Denis - Lars Van Het Kristoffelhof  - 70,010 
12. De Winne Flore -  Basali - 69,583 
13. Hegemann Hannelore -  First Class "N"   -   68,146
14. Rutten Tess - Quando Z  - 67,833  
15. Vandecappelle Ine -  Generaal -  67,802   
16. Meisch Linda  - Goldennettie -66,521  
17. Franckx Tom - Just Wait  -  66,219  
18. De Cuyper Cindy - QC Fantastic Hit   -  64,479   
19. Van der Horst Dominique - Wolfshoeve's Go on Top  - 63,052   
20. Carlens Olivier  - Foxtrott Du Jade - 63,010  
21. Martel Shawnee -  Fürst De Niro-  62,750 
22. Laukens Ilka -  Firedance -   61,781 
23. D Hoore Wouter  - Guess Van De Moerhoek - 60,385 
Deryckere Vibeke -Ginger  DNS
6-year olds
1. Dossin Julie -  First lady  -  75,042
2. Pauluis Larissa - Barroso  -  74,500  
3. Verreet Katrien -  Gallartica Biolley - 74,042
4. Laevens Kevin  -  Kozinsky Vd Dries   -    72,792   
5. Franckx Tom -  showdancer  -  72,458 
6. Verheyden Sam -  Kryptonite Van De Performing Stables - 70,833 
7. Michiels Domien-  Kokoschka Van De Burggrave  -   70,792
8. Borrey De Coninck Eline -  Future'S Pride  -  70,750 
9. Swagemakers Veronique - Sixth Sense -  70,500  
10. Heylen Tom - Kalagan "h"  - 70,375  
11. Rutten Tess  - Farid -  69,250  
12. D'Hoore Brecht - Wolfshoeve's Ferdinand H -  68,458 
13. De Vlieger Andre  - Figo -  68,042 
14. Cool Isabel  - Faithfull -  67,833 
15. Vandecappelle Ine  -  Katusha Van 't Wijnhof  - 66,708  
16. Cool Isabel  - Freedom  - 66,042  
17. De Greve Bart  - Knock-out Van Rozendycke   -  65,417
18. Van Robaeys Athina - Kefraya M - 65,083
Related Link
Eurodressage Coverage of the 2016 World Young Horse Championships