2016 Excellent Dressage Sales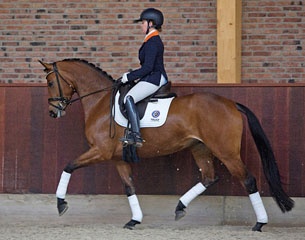 With a total turnover of over 1.7 million euro and an average price of 48,000 euro per horse , the third edition of the Excellent Dressage Sales was a success. The 3-year old Dutch warmblood mare Hannelinde sold for the top knock down price of 175,000 euro.
A nice group of 37 horses was sold by auctioneer Koen Olaerts. VSN winner Hannelinde was the first horse to be sold. She will go to Belgium for 175,000 euro, the top prize of the evening. The second most expensive horse of the auction was the Grand Prix horse Rousseau's Topas, who will stay in Holland for 155,000 euro. The KWPN licensed stallion Grenoble will move to Switzerland. Different top riders were buying horses, among them Olympic medal winner Sven Rothenberger, who bought mare Hilary by Cendy (by Florencio x Jazz), and Italian Grand Prix rider Norma Paoli.
Small tour gelding Zonnidus (Sunny Boy x Flemmingh) sold to China for 125,000 euro, small tour mare Ucelle de l'Ocean (by Londenderry x Carismo) sold for 120.000 euro. TC Dolly was withdrawn from the auction.
The big arena of Academy Bartels in Hooge Mierde was completely sold out and again there were visitors from many different countries bidding for a horse, the organisers told afterwards. Horses were sold to countries such as China, Germany, Thailand, Belgium, Italy, Switzerland and England.
Several horses were sold by telephone as some riders had already tried out the horses under the saddle during the weeks before the auction. They had made the choice to stay home and follow the auction through a livestream tv connection by tv channel 'ClipMyHorse'.
Culitsrode Estate, which is the home base of Academy Bartels, was transformed into a very nice and cosy auction arena, decorated with beautiful art and different presentations by sponsors. At the beginning of the evening a Longines lady's watch was sold for 3,000 euro, which will be contributed to the 'Gelukskinder' Foundation.
The organisers were happy to announce a fourth edition of Excellent Dressage Sales in April 2017. The date will be announced on short term.
Related Links
Striking Names in 2016 Excellent Dressage Sales Collection
Excellent Dressage Sales 2016: Our Success in the Past is the Reference for Your Future
Ulysses La Haya, Price Highlight of the 2015 Excellent Dressage Sales