Swiss Dressage News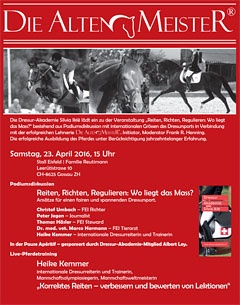 Classical dressage enthusiasts will be welcomed at a special Swiss Dressage Forum with as topic "Ride, Judge, Regulate: How to keep Measure?" at Stall Eisfeld in Gossau near Zürich, Switzerland, on 23 April 2016.
This event is organized by the "Dressur Akademie Silvia Iklé" in cooperation with the well known series "DIE ALTEN MEISTER". It aims to discuss approaches for a fair and fascinating dressage sport with a bright future. The event consists of a top-class panel and a popular live demonstration this year by Olympic medalist Heike Kemmer.
In the panel discussion up-to-date questions based on what happened at international shows in the last few months will be discussed; for instance what to do to ensure the health of the horse, correct warm-up before a show as well as the future of judging or what is required by the public to make dressage more interesting to watch will be discussed.
The panel – moderated by Frank Henning – consists of experts in all these areas: Christoph Umbach knows his way around key issues in judging as an FEI judge, FEI veterinarian Dr. med. vet. Marco Hermann addresses topics around the vet-check and health of the horse, Thomas Häsler as FEI Steward knows the situation at the warm-up arena, Heike Kemmer as internationally known dressage rider and trainer speaks about what is required for a solid development and training of a horse and Peter Jegen as a long-term journalist in the equestrian sports represents the media and public.
After a break, with a sponsored Apéro by Dressur Akademie member Albert Ley, the live horse training with Heike Kemmer will follow suit with a demonstration on correct riding of lessons and how to improve and judge them.
The event is open to public and starts at 3 pm.
Entrance is free of charge but please register at www.die-alten-meister.ch or www.dressurakademie.ch
Related Links
Seven Awardees at the 36th Performance Sales International
Silvia Ikle Retires Salieri CH at 2012 CDI-W Stuttgart
Silvia Iklé Supreme at 2005 Swiss Dressage Championships