2016 CDI Nieuw en St. Joosland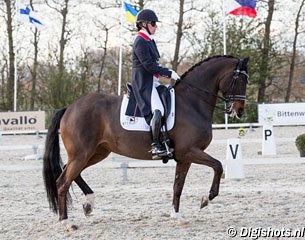 Fiona Bigwood and the Danish warmblood mare Atterupgaards Orthilia became the winners of the Grand Prix class held at the first outdoor CDI competition of the 2016 show season in Nieuw en St. Joosland, The Netherlands, on Thursday 7 April 2016. Bigwood dominated a field of 38 riders. Edward Gal made his come back to the ring on Undercover after his elimination at the 2015 European Championships, but the gelding has not yet retrieved his confidence in the arena.
Bigwood and her 11-year old bay mare also made their return to the ring in Nieuw and St. Joosland after an eight month break, last competing at the 2015 European Dressage Championships in Aachen in August. The pair was scheduled to show at the World Cup qualifier in London in December but scratched for that event. The combinations now left no doubt about it that they are one of Britain's ruling duo's. The first trot extensions could have been better, as well as the zig zag in which Bigwood made a counting error, but overall Fiona produced a solid round with highlights in the piaffe and passage.
The panel of judges for the Grand Prix included de Wolff van Westenrode (NED), Verbeek (NED), Holler (GER), Baarup (DEN), and Halsall (GBR). They had their finger firmly on the 7 and 8 score button and rewarded Bigwood with a 75.640%, with marks ranging from 73.400 to 77.700%.
"I am so happy with her," Bigwood told Eurodressage. "We didn't ride at Olympia because she had a nosebleed just before going up there and I didn't want to risk having any issues at the show. After not competing for 8 months, it is always daunting to do your first show of the season but I have been going to Carl (Hester)'s a lot and we knew she was in good form at home but that doesn't mean the first show will go to plan. I am thrilled with how she went in the arena today. She is such a generous mare."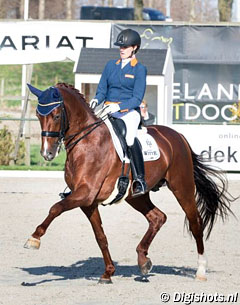 Madeleine Witte-Vrees and her rising Grand Prix horse Cennin, a 9-year old Dutch warmblood stallion by Vivaldi x Donnerhall, landed second place with 73.260%. The muscled liver chestnut stallion, who can be quite rigid in the mouth, was very consistent in the trot work and got straight 7s and 8s for the piaffe and passage work. The rein back and the one tempi changes had some hiccups. The panel was not unanimous with their scores ranging from 71.300 to 75.200%.
"He went really well," Witte-Vrees explained. "It all looks like it goes easily. Unfortunately I had a mistake in the one tempi changes and there are still a lot of points to work on, but he's such a cool horse. I'm really crazy about him."
Belgian Jorinde Verwimp missed out on riding at the 2016 World Cup Finals, having to decline a late arrived wild card which left her unprepared as her horse was on a holiday, as the rider was not expecting this extra entry place in Gothenburg. Two weeks later the pair is back in competition gear and finished third in the Joosland Grand Prix with 71.040%. The first piaffe was a bit hesitant but the pair found their stride after the walk part. The zig zag and two tempi's were putting good scores on the board, but the ones had a hiccup. Verwimp's marks ranged from 69.700% to 72.600%.
"Timmie started out really well, but we had a small miscommunication in the transition to the first piaffe and at the onset of the one tempi's," Verwimp told Eurodressage. "He felt more relaxed than in Lier, but I rode a bit too safely. Tomorrow in the kur we'll shift to another gear."
Undercover's come back since Aachen did not go as smoothly. His experienced rider, Edward Gal, had his hands full with the sensitive 15-year old Dutch warmblood gelding (by Donnerhall x Ferro), who seems to have lost his groove in the competition ring and was tense from start to finish. He refused in the second piaffe reversing all the way back to the fence and missing the transition to passage as well as the canter strike off. Also the zig zag didn't work out, but Gal recovered in the tempi changes. The final centerline was quite alright and Edward finished his test on a 70.220%; Undercover's lowest Grand Prix score ever. They were sixth.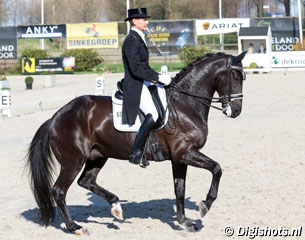 "Today was not Fritsie's day," said a representative of Undercover's owner. "The warm up for the CDI4* of Zeeland Outdoor was good, but in the arena he became so hot, that Edward could hardly manage it."
The judges' marks were overall quite consistent as they ranged from 69.400% to 71.100%, but the problem zones in the test were a total curve ball for them,  looking at the individual marks. It seems as if they don't know how to deal with problem exercises. The non-performed piaffe gots 1s and 2s, but the transition got scores from 2 up to a 5 ("bad" to "sufficient"). The poor canter strike off was good for a 2 up to a 5. The zig zag went from 3 to 5. ("fairly bad" to "sufficient"). The end halt went from 6.5 to 8. Submission marks ranged between 5 and 6 ("sufficient" to "satisfactory"). 
Edward Gal's test once again proved how charitable judges are when scoring big names. Amateurs or unfamous riders struggle to get more than a 6 or 7 for beautifully executed movements and easily get 3s and 4s as soon as something goes wrong. Top stars, however, can have a total off-day and still get generously marked. This is not Edward's fault, of course, but the situation itself proves the weakness of the system in which lenient halo-judging is standard, tolerated and goes uncorrected. This pretty much counts for most top World Ranked riders, not just Gal. Let's hope this gets worked on with efficient peer review and self-correction at FEI Judging (refresher) courses and seminars. Strikingly the same evening as the Joosland Grand Prix, the FEI Bureau announced that it has decided in its in-person spring meeting on the creation of a dressage judging working group to improve judging of the discipline. Let's see where that takes the sport.
Text by Astrid Appels - Photos © Digishots
Our photography partner Leanjo de Koster of Digishots is shooting all combinations at the 2016 CDI Nieuw en St. Joosland. Check out his online gallery here.
Related Links
Scores 2016 CDI Nieuw en St. Joosland
Jorinde Verwimp Declines Invitation for 2016 World Cup Finals
Dujardin Claims Gold in Shocking Grand Prix Special at 2015 European Dressage Championships
Fiona Bigwood Makes Stunning Come Back To the Big Tour at 2015 CDI Barcelona