2016 Dutch Indoor Dressage Championships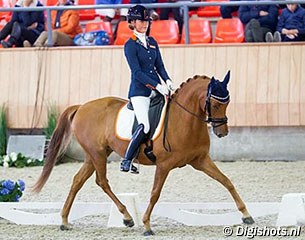 Daphne van Peperstraten and her second FEI pony Wonderful Girl became the winners of the 2016 Dutch Indoor Championships at FEI Pony level. The Nationals were held in Ermelo, The Netherlands, on Saturday 5 March 2016. This is Van Peperstraten's second national title after having won the Outdoor Championship on her number one Don Camillo du Bois last summer.
Van Peperstraten is in her last year at pony level and opted to ride Wonderful Girl (by Wimbledon) at the chestnut mare's first nationals instead of her safer choice Don Camillo. She scored 70.980% in the first round and 77.00% in the Kur to Music finals to average 73.990%.
"Wondy is really exceeding all expectations and is going so well," said the 15-year old van Peperstraten. "I could ride her really nicely today. In the test everything went well and in the kur to music we only had a small hiccup in a simple change. It was thrilling to wait for the results because you can't afford any mistakes at such a championship."
Daphne trains with Marlies and Coby van Baalen twice a week and is already getting her feet wet at Junior riders' level with Evita de la Vigne (by Future).
The silver medal went to new comer Marten Luiten on the Dutch bred Movie Star (by Hagelkruis Valentijn). The Winschoten based rider was second in both rounds, scoring 69.790% in round 1 and 75.250% in the Kur to Music to average 72.520%. The more experienced pony rider Jitske Prosman got the bronze on her Dutch bred Charina du Bois (by Danny Gold) after scoring 67.180% in round one and winning the Kur to Music finals with 77,542%. Her average was 72.361 to land third spot on the podium.
Photo © Digishots
Results - 2016 Dutch Indoor Pony Championships
1. Daphne van Peperstraten - Wonderful Girl  - 70,980 - 77,000 -- 73,990
2. Marten Luiten - Movie Star -  69,790 - 75,250 --- 72,520
3. Jitske Prosman - Charina Du Bois  -  67,180 - 77,542 --- 72,361
4. Zoe Kuintjes -  Elin's Nonsisdador - 69,660 -  72,500 --- 71,080
5. Coco Soffers - Don't Forget Me -  66,670 -  73,708 ---  70,189
6. Romy Verweij -  Brouwershaven's Nairobi  - 65,810 - 73,833  ---  69,822
Related Links
Zoe Kuintjes Wins 2015 Dutch Indoor Pony Championships
Febe van Zwambagt Wins the 2014 Dutch Indoor Pony Championships
Febe van Zwambagt and Coco Jambo Win 2013 Dutch Indoor Pony Championships
Sanne Vos, 2012 Dutch Indoor Pony Champion
Michelle de Jonge, 2011 Dutch Indoor Pony Champion
Maria van den Dungen, 2010 Dutch Indoor Pony Champion
Dana van Lierop, 2009 Dutch Indoor Pony Champion
Maria van den Dungen Claims Second Dutch Indoor Pony Champion's Title
Maria van den Dungen Wins the 2007 Dutch Indoor Pony Championships
Laurens Sliepenbeek, 2006 Dutch Pony Indoor Champion