2016 Olympic Games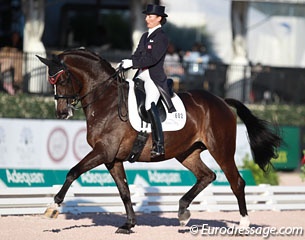 The Olympic race for the individual slots for the 2016 Rio Games is over, well almost. The competitions going into the Olympic Ranking List are all done, all the rides have happened and all the scores given, but there are still possibly some open questions. Of course all of this is unofficial, only the results verified by the FEI on Tuesday really count.
Some things are clear, we know who will be the nations receiving Olympic berths via the FEI Group qualifications:
Group A: Two places for Denmark (Kasprzak and Gundersen)
Group B: Austria and Belgium (Max-Theurer and Verliefden)
Group C: Two places for Russia (Merkulova and Aframeeva)
Group D: Canada (Lane)
Group E: Dominican Republic (Losos de Mūniz)
Group F: Palestine (Zimmermann)
Group G: New Zealand (Brougham)
The only change in that since last weekend is that Fanny Verliefden accumulated enough points to go above Valentina Truppa in Group B.
Valentina Truppa (ITA) now takes the first of the 6 Ranking List places with 1029 points, followed closely by Judy Reynolds (IRL), who had two record breaking scores in Doha to hit 1022 points. Marcela Krinke-Susmelj (SUI) slipped one place but is safely qualified with 1005 points. Agnete Kirk Thinggaard and Lars Petersen are in 4th and 5th position thus bringing Denmark up to a full team of 4 riders. Lars saved it all till the Saturday night Freestyle in the Palm Beach CDI-W where took first place and 260 ORL points with a 78.024% test.
Which brings us to the 6th and final Ranking List place. That is Inna Logutenkova UKR on 964 points with Beata Stremler (POL) on 960 points in 7th place.
However, this will only be official on Tuesday after the FEI has reviewed all recent competitions and makes its judgment on the fairness of each. Readers are reminded of the wording in the Olympic Qualification Rules:
"The FEI Dressage Committee may decide not to include the scores obtained at an event in the rankings, should the event not have been organized in accordance with general principle of fairness. The Executive Board should confirm the decision of the Dressage Committee."
If the competition from last week in Lier were to have its scores removed the 6th place would instead go to Beata Stremler.
Of course some riders who really hoped to qualify have not and fortunes have changed for them multiple times in the last week. A week ago Belgium had Jorinde Verwimp qualified and Jeroen Devroe within striking distance, but it was not to be. Jorinde had a few mistakes in her tests this week that were enough to prevent her getting her place back, Jeroen climbed a few points but not enough. Also until early this morning Portugal's Gonçalo Carvalho had a place, but it slipped away.
We have been analyzing all the data from contenders and would like to set straight one rumor that has been flying round, that there is a Russian effect. Full analysis of all the qualifying events for Inessa Merkulova indicate that without using any Russian judges in evaluating her final points would reduce her ORL points by just 1 out of the 1200 she has received. For Marina Aframeeva the effect of Russian judges was to DECREASE her ORL points by 17 points! So Marina actually suffered from the anti-nationalistic judging of her compatriots. Neither rider profited from nationalistic judging and the Russian judges should be commended for their honesty and correctness.
By David Stickland / Global Dressage Analytics
Photo © Astrid Appels
Related Links
Logutenkova Wins Big at 2016 CDI Lier, Olympic Race Scandal Fueled
Moscow Madness: The Root of the Root
Shifts on 2016 Olympic Ranking List After Whopping Scores in Moscow, Freestyle Scores in Wellington
Latest Update on the 2016 Olympic Qualification Race with Two Weeks to Go
Olympic Fever Rages as Final Competition Week for Olympic Qualification Begins 1 March 2016