2016 CDI Lier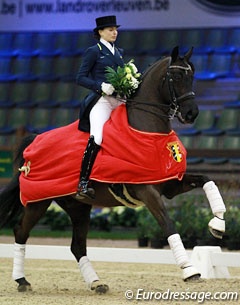 Ukrainian Inna Logutenkova won both 3* Grand Prix classes at the 2016 CDI Lier in Belgium on Tuesday 1 March 2016. Her victories based on personal best scores and the ideosyncratic judging on Tuesday and Wednesday in Lier has poured even more fuel on the scandal-filled race for individual Olympic qualification of which the 6 March deadline rapidly approaches.
The 2016 CDI Lier is a beautifully organized event at a top location for riders from Belgium, Holland, Germany, France and Great Britain to attend due to its central location in Western Europe. Lier has become a World Dressage Masters' station, sponsored by the Ukrainian VIAN Group, who  supports the Belgian based Ukrainian rider Inna Logutenkova and who is in charge of inviting their pick of judges for the six days of competition at equestrian centre Azelhof in Lier, Belgium.
On Tuesday 1 March 2016 two 3* level Grand Prix classes were scheduled. The Grand Prix for Special was judged by Iryna Shulga (UKR), Larysa Velyka (UKR), Jacques Van Daele (BEL), Slawomir Pietrzak (POL) and Mariono Santos Redondo (ESP). The Grand Prix for freestyle was judged by Marietta Almasy (FRA), Maria Dzhumadzhuk (UKR), Nataliya Petukhova (BLR), Iryna Shulga (UKR), Maria Colliander (FIN). With three Eastern European judges on each panel the scoring of both classes let to several eye-brow raising results!
A Quick Look Back in History
Four years ago for the 2012 London Olympics, a clever trick was played to help qualify Ukrainians Svetlana Kiseliova and Inna Logutenkova as well as VIAN team member Yessin Rahmouni (MOR) and Quzandria Nur (both students of Anky van Grunsven/Sjef Janssen, coaches of Logutenkova who were hired in 2010 as technical advisors to promote dressage in Ukraine). No less than 10 CDI competitions were staged in Zhashkov (UKR) between 1 March 2011 - 1 March 2012 to increase Olympic qualification chances: Both Kiseliova and Rahmouni made it to the Games.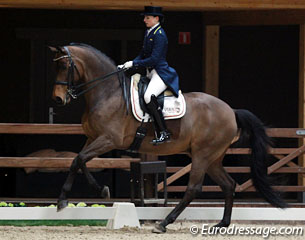 The "pop-up CDI's" in Ukraine received much criticism for being an easy Olympic qualification platform. The Zhashkov shows no longer took place after 2013, but instead Vian continued to promote the sport via the more mainstream World Dressage Masters. The company set the stage for two wonderful CDI Lier competitions, conveniently located for western european riders. One was in November and one this week in March.
It is hard to find dedicated sponsors who want to stage top level international competitions and VIAN group should be applauded for their support and effort. The CDI Lier event is an amazing chance for all riders racing for Olympic qualification due its top location, facilities and the opportunity to ride in at least three different Grand Prix classes (plus Special and freestyles) in one week time, the very Eastern European tinted ground jury did not immediately create a "level field of play". The actual scores posted on the board regretfuly proved that. It made one wonder why the sport has not developed towards more fairness and transparity after the London Olympic qualification debacle which resulted in a major CAS lawsuit and the equestrian sport in general further discredited as an Olympic discipline.
Tuesday's Grand Prix for Special - Tebar Robbed from Victory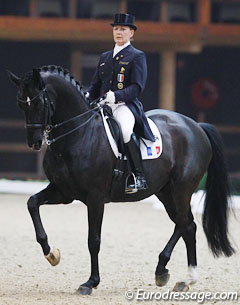 Tuesday morning started well with the Grand Prix for Special. No real craziness took place in that class except that the real winner was robbed from the victory and ranked third. Karen Tebar and her 11-year old Don Luis (by Dimaggio x Rubinstein) put in a gorgeous, harmonious ride in which the piaffe and passage work were extraordinary. The trot work was elegant and lightfooted. The extended trot lacked some power behind but was balanced. The extended walk was world class. The transition from passage to canter was flat. Two flying changes - one in the 2 tempi's and one in the zig zag - were short behind which was due to the some lack of impulsion behind. The entire test was soft and sweet with a superb final centerline, but it could have had more a bit more electricity. A score of at least 74% was expected to flash on the board, but instead Tebar had to settle for a 72.040% and a third place. Her low score was 70.300 and her high score 75.700%.
Inna Logutenkova and her second Grand Prix horse Fleraro (by Flemmingh) won the class with 72.480%. The bright bay Fleraro is a lovely horse and he made no real mistakes. In passage he needs to develop more strength from behind so he can generate more understep and in piaffe he is still not properbly balanced, stepping on his own coronet bands behind. The extended walk was very good. The 72.840% might have been a bit generous.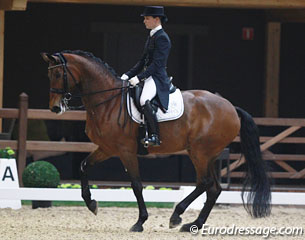 Belgian Fanny Verliefden and Annarico (by Lord Loxley x Havel) are truly coming of age. The bay Dutch warmblood mare is world class and was the freshest and most actively presented of the top ranked horses. The trot extensions were excellent and the trot half passes scopy although the one to the right could have been more even in the rhythm. The piaffe - passage was lovely, but the mare can still take the weight more on the hindlegs even though the rhythm was strong. The mare was always very nicely up in the bridle in the work, the extended walk was good, the pirouettes nice, but there was a costly mistake in the two tempi changes and the flying change at the end of the canter extension diagonal was tense. The final piaffe at X could improve in balance. Annarico is certainly a 75% scoring horse, but in the Lier Grand Prix the mistakes pressed the score.
Tuesday's Grand Prix for Kur - Olympic Fever
In the afternoon Grand Prix for Kur Inna Logutenkova topped the leader board once again, this time on her number one Grand Prix horse Don Gregorius (by Don Cardinale x Placido), the horse she is trying to qualify for Rio.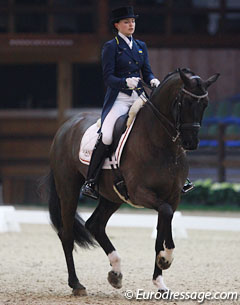 Logutenkova is still in the running for one of the 6 slots available to the highest ranked riders on the Olympic Athletes Ranking, not qualified through their groups. She remarkably moved closer to a slot after the first day of competition in Lier and only needs one more top (kur) score to capture one.
The black stallion Don Gregorious is a very talented horse and appealing to the eye. He began his test with engaged, forward trot work but was ridden quite short in the neck and almost too much up in the bridle. The first piaffe-passage was nice, in the second piaffe the horse showed timid steps. The extended walk was good but could have had more impulsion. The pirouettes were good, the zig zag well ridden but it needed to have more uphill tendency. The ride was a nice one, in which the rider should let the horse carry itself a bit more insteady of controlling him with her hands. She scored a personal best mark of 73.980%, an impressive improvement of 3,24% from her last high score of 70.740% achieved at the 2014 CDI-W Czosnow (Poland). In Lier, her low score was 71.800 (Colliander), but the Ukrainian judges awarded the test 75.300 (Dzhumadzhuk) and 75.600% (Shulga).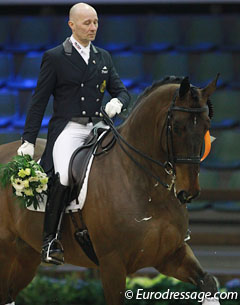 Belgian Jeroen Devroe and his Belgian warmblood Eres DL (by Sir Lui x Balzflug) finished second in the Grand Prix. The tall, long legged Eres Dl  showed good trot extensions and sweeping half passes. The horse showed much tension in passage with a heavily swooshing tail, and the piaffe is still small with a few back steps even. The horse picked up the wrong lead in the canter strike off, but the canter work was very solid with a very well ridden zig zag and tempi changes. The pair scored 72.200% with 70.100% as low score (Almasy) and both Ukrainians as high scoring judges: 73.300 (Dzhumadzhuk) and 73.800 (Shulga).
Finnish Terhi Stegars and her Trakehner stallion Axis (by Sixtus x Angard) landed third place with 69.640%. The black beauty is a routinier in the Grand Prix work being in his fifth year at international Grand Prix level. In Lier the passage work needed to be more active behind, but he settled well in the rhythm in piaffe. The two tempi's were very energetic, but in the ones he got too hot and made mistakes. The pirouetes were small.
Wednesday's Grand Prix Special and Freestyle - Co-incidence or at Gun Point?

While some "curiosities" but no real blasphemies were noticed in the scoring on Tuesday, the judging took on alarming proportions on Wednesday. After close observation of the individual results one almost thinks that the two Ukrainian judges on the panel for the Special and Freestyle were judging while being held at gun point. Their patriottic scoring of the Ukrainian rider was totally out of proportion and remarkably the Belgian Olympic candidates profited from it as well.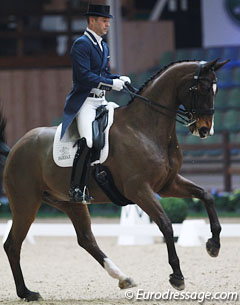 In the Grand Prix Special, Brit Spencer Wilton took highest honour on Super Nova with a 73.490% earning test. Belgian Olympic candidate Jorinde Verwimp and Tiamo (by Lester x Hemmingway) landed second place with 73.196%. Her low score was 69.804% (Pietrzak) but the Ukrainian judges had her at 74.216% (Dzhumadzhuk) and at 76.275 (Shulga). Belgian Fanny Verliefden was third with 72.902%. Her low score was 69.314% (Pietrzak), but from Dzhumadzhuk she got 72.647% and from Shulga 74.12%.
If the Ukrainians had been just generous with their points for all riders, it wouldn't have been an alarming. However they appeared very selective with their inflation. Inna Logutenkova and Fleraro finished 7th in the Special with 68.627% but the rider had 64.020% as low score (Pietrzak). Dzhumadzhuk scored that same ride 9% higher (73.325%)! and Shulga had her even 10% higher (74.412%). Co-incidence?
In the afternoon Grand Prix freestyle, it was more of the same. Two Ukrainians judged the Kur, Shulga and Velyka. Inna Logutenkova and Don Gregorius won the class with 77.850%. Her low score was 75.375 from Almasy (FRA), but Shulga had her at 80.125 and Velyka at 80.750%. Voila! The Belgians continued to benefit from the Ukrainian wave. Devroe finished fifth with 73.550% but his low score was 70.500 (Santos), yet Shulga had him at 78.750% and Velyka at 74.500%. Terhi Stegars and Norma Paoli also rode on the same high-point wave, but with all other riders there were more in tune with the other panelists.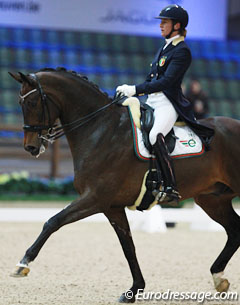 With her Grand Prix and Kur score achieved in Lier on Don Gregorius, Logutenkova is now safely in the qualification zone of the top 6 individuals to earn a Rio slot. Polish Beata Stremler has to pull a miracle in Dortmund to get her spot back. The top 6 at the moment includes Agnete Kirk Thinggaard, Marcela Krinke-Susmelj, Fanny Verliefden, Inna Logutenkova and Gonçalo Carvalho and Judy Reynolds tied in 6th place. Both Reynolds and Carvalho are still competing this weekend and their score will matter for the final tickets.
Where is the FEI?
VIAN shouldn't be discouraged to host CDi's and promote dressage as they so generously do. And neither should young, upcoming judges from making mistakes. However, please don't put inexperienced judges on panels when Olympic tickets are at stake. The FEI has to grow a spine and finally take a stand by cleaning up their act. As long as organizing committees can assemble their own judging panels at liberty, there will be no end to nationalistic or "promotional" judging. It is a sad day for the sport for which fair-playing riders are paying the price.
Text and Photos by Astrid Appels - NO REPRODUCTION ALLOWED - NO SOCIAL MEDIA
Eurodressage photographer Astrid Appels took photos of all combinations competing at the 2016 CDI Lier on Tuesday. Contact us if you are interested in prints/digital files of your photos!
Related Links
Scores 2016 CDI Lier - Lier scores with breakdown of points
Editorial: Moscow Madness: The Root of the Root
FEI Statement on 2016 CDI Moscow Score Inflation and Clinic Conflict of Interest