FEI Dressage News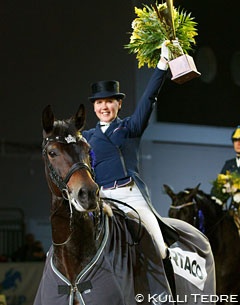 In response to emails from a number of National Federations expressing their concern about the results at the CDI3* in Moscow (26-28 February 2016), the Dressage Committee has now provided the FEI Secretary General with their assessment of the situation.
During its in-person meeting in Jerez de la Frontera (ESP), the Dressage Committee reviewed the scores awarded at the CDI3* in Moscow (26-28 February 2016). Detailed information was gathered and the relevant parties have been given the opportunity to comment on this matter.
After full analysis of the evidence presented to date, including the scores given by each of the judges, the FEI Dressage Committee informed the Secretary General they had concluded that the judging was consistent across the five judges and in accordance with the FEI Dressage Rules and the principle of fairness as detailed in the FEI Olympic Athletes Ranking – Dressage Rules.
The Secretary General also reviewed the evidence in light of the Codex for FEI Dressage Judges regarding the training of a horse/rider prior to an event. The Codex does not permit a judge to train "a horse/rider for more than three days in the 12 month period prior to an event or any training of a horse/rider during a period of nine months before Olympic Games, World Equestrian Games, Continental Championships on Grand Prix level, or World Cup Final, and three months before any other FEI event."
It was confirmed to the FEI that Ghislain Fouarge (NED) held a clinic at the New Century Club on the outskirts of Moscow (RUS) from 22-24 October 2015 which was attended by 18 riders. These dates are fully in accordance with the rules regarding both duration of training and timing prior to the Moscow event and Dressage events at the Olympic Games.
Consequently, and based on the available evidence, the FEI Secretary General has concluded that there was no breach of any rule at the CDI3* in Moscow.
Related Links
Scores: 2016 CDI Moscow
Editorial: Moscow Madness: The Root of the Root