FEI Dressage News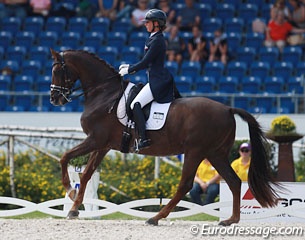 The weekend of 26 - 28 February 2016 has indeed been an eventful one on the Olympic Qualification front! The biggest news was probably the results from Moscow, where Inessa Merkulova scored 8% above her all time personal best.
At the 2016 CDI Moscow Inessa Merkulova RUS and Mister X receive their highest ever scores with an 82.204 in the Grand Prix and an 83.150 in the Freestyle, beating her previous highs of 74.46% and 81.375% achieved at the 2015 CDI Minsk last October. Inessa was already assured of winning the top Group C place so this did not change anything. But in the same competition Marina Aframeeva RUS and Vosk also blew away their previous highs with a 76.780 in the GP and a 78.430 in the Freestyle (previous records 71.900 and 75.630). That puts Marina into the second qualifying place for Group C with a net gain of 81 ranking points over the weekend putting her on 986 points today.
This has two effects, it knocks Beata Stremler of POL out of a qualifying place, though she will be competing in Dortmund this week; in addition, it puts pressure on the 6 top Olympic Ranking List (ORL) qualification places where Beata's current 944 is very close to the 6th place score of 955. So Beata may be in contention for one of the 6 ORL places if she does not get the Group C place.
In Florida, Lars Petersen and Mariett DEN (Lars recently became a US citizen but is still competing for DEN) picked up points in the CDIW and is now at 955 points. This gives Denmark, at least for the moment, a 4-member team.
In Spain Goncalo Carvallo and Batuta climbed a few points to finish the weekend on 956 points, in the 4th ORL qualification place.
Lars Petersen shares 5th ORL place currently with Judy Reynolds IRL both on 955 points – which has now become the minimum ORL qualifying score. Judy competes in Doha this week and Lars may be competing in Florida. Lars entering the top 6 knocked Jorinde Verwimp BEL out of the top 6; both she and Jeroen Devroe will be competing in Lier this week looking to return to that top 6 and potentially give Belgium a 3-member team.
Today's Summary:

Group A: Anna Kasprzak DEN 1090, and Mikala Gunderson DEN 1068
Group B: Victoria Max-Theurer AUT 1056 and Valentina Truppa ITA 1029
Group C: Inessa Merkulova RUS 1200 and Marina Aframeeva RUS 986
Group D: Megan Lane CAN 883
Group E: Yvonne Losos de MunizDOM) 639
Group F: Christian Zimmerman PLE 711
Group G: Julie Brougham NZL 805
ORL: Marcela Krinke Susmelj SUI 1005, Fanny Verliefden BEL 1000, Agnette Kirk Thinggaard DEN 989, Goncalo Carvalho POR 956, Judy Reynolds IRL 955 and Lars Petersen DEN 955.
Riders within 20 points of a qualifying score (on today's standings): Jorinde Verwimp BEL 946, Beata Stremler POL 944, Jeroen Devroe BEL and Daniel Bachman Andersen DEN on 940 points. (Only one of Lars and Daniel can qualify as Denmark already has three "qualified".)
This final week is a full one! Two CDI3* and a CDI4* in Lier, CDI5*s
in Dortmund and Doha, a CDIW in Wellington, and CDI3*s in Jerez de la
Frontera, Hastings and Caselle di Sommacampagna
By David Stickland / Global Dressage Analytics
Photo © Astrid Appels
Related Links
Scores 2016 CDI-W Wellington - Scores 2016 CDI Moscow - Scores 2016 CDI Jerez de la Frontera
Shifts on 2016 Olympic Ranking List After Whopping Scores in Moscow, Freestyle Scores in Wellington
Latest Update on the 2016 Olympic Qualification Race with Two Weeks to Go
David Stickland: Who Will Get The Last Individual Tickets to Rio?