2016 CDI Devon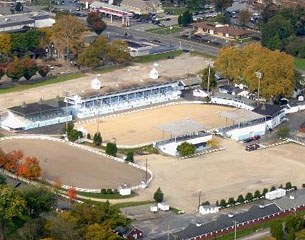 The board of directors of the Devon Horse Show, which annually hosts the CDI World Cup Qualifier in Devon in September, are investing $1 million into the show grounds before its 2016 show jumping event scheduled for May 26 – June 5, 2016. Celebrating its 120th anniversary this year, the Devon Horse Show will enhance the experience for attendees and competitors through a variety of renovations and new construction.
The most dramatic addition will be an entirely new, two-story building located on Dorset Road, making it the centerpiece of the show grounds. The first floor will house the emergency medical services facility as well as the Horse Show Entries, management, public relations and ticketing offices for its staff members. The building will also include a first-class entertainment venue with specular orbital views of both the Dixon Oval and the Gold Ring.
Devon Chairman Wayne W. Grafton commented, "The tradition not only continues at Devon but improvements are being made with major enhancements to our grounds. We are focused on making this a wonderful venue for competitors and attendees for many years to come."
Other changes in the works include additional space behind the East Grandstands for vendor rentals. Significant improvements to the footings, as well as laser leveling in all three rings will result in an improved experience for competitors.
In addition, more than 220 of the permanent barn stalls have been reconditioned to ensure the safety of the horses and their riders during the event. This project will be supported through the purchase of personalized horseshoes by exhibitors as well as direct donations.
Related Links
Gundersen and My Lady Sweep World Cup Qualifier at 2015 CDI-W Devon
Stenagers Welina, Grand Champion of the 2015 Devon Breed Show
Vinios Victorious in Small Tour at 2015 CDI-W Devon
Trussell and Tattoo Win Medium Tour at 2015 CDI-W Devon
Devon Diary: Arriving at Devon