2016 CDI Nice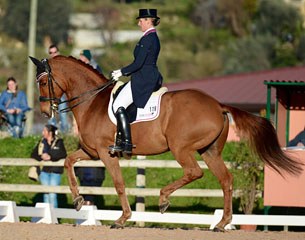 German B-team rider Bernadette Brune made her international show debut on her latest Grand Prix addition, Lights of Londonderry, at the 2016 CDI Nice on 19 - 21 February 2016. With three horses at Grand Prix level, Brune is looking forward to competing more with her clever and very talented Hanovarien alongside Spirit of the Age OLD and Valeron.
"Our first international show of the year was really great," said 41-year old Bernadette. "All the three horses I competed on were in the placings!"
Finishing fourth in the Grand Prix with Lights of Londonderry (by Londonderry x Weltmeyer) on 71.360%, Bernadette also captured third place with 71.820% with her more experienced Grand Prix ride, 12-year old Spirit of the Age (by Stedinger x Donnerhall x Rohdiamant). In the Grand Prix Special Lights of Londonderry was third on 69.882% while Spirit of the Age landed second place in the kur on 73.325%.
Bernadette also brought along her small tour horse, Trakehner licensed stallion Kasimir (by Charly Chaplin x Arogno), with whom she finished second in the Prix St Georges with 70.044% and third in the Intermediate I on 69.421%.
The 2016 CDI Nice was certainly a major success for the rider who lives a stone's throw away from the show venue, in Monaco.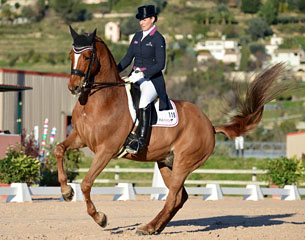 "Lights has his very own personality. He can be super easy to ride but sometimes he just says "I am the boss and I know better" which is quite funny but not a problem," Brune explained. "He is much easier to ride than Spirit of the Age and  is very impressive in his piaffe, passage, pirouettes and changes!"
Bernadette's stable neighbour, the Nice-based Alexandre Ayache, rode Lights at the 2014 World Equestrian Games in Caen after which he sold the horse to Brune. Ayache never cracked the 70% mark in an international Grand Prix, so the former show jumping rider is especially thrilled that she was able to achieve that magical score on her debut on the chestnut.
"I saw the horse at my show and saw something special in him. I bought him in July 2015 and took my time to get to know him," said Bernadette
Brune gets help from German coach Udo Lange mostly for the upper level competition movements, Bernadette also trains with Thomas Rhinow on the basic work at home and the suppleness of the horses.
"I did a national Grand Prix in January to test Lights and came out with 71,89% which was great.   Lights was very nice at the CDI in Nice. He is very professional in the Grand Prix. I just messed the pirouettes because I did too many during the warm-up.  In the special I warmed up for too long and he was a little tired.  I have to get to know him better, but I think it will be a nice horse for the future," she said.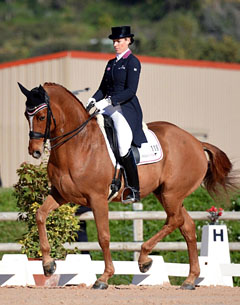 Entered for one more training show in Valencia, Bernadette then hopes to do the big shows in Germany. She will share the tests between both horses. Her main aim is to compete at the 2016 CDIO Aachen in July.
With her own sport centre Domaine Equestre des Grands Pins in France and breeding stable in Germany, Bernadette commutes between her home Monaco and two yards in Vidauban and German. Every day is different for her.
"Normally I ride the horses in the morning, then some office work, after that fitness work, and in the evening I edit videos of the horses that are for sale or do out some other computer work.  At home I work alone, but Udo Lange comes with me to the most important shows," she explained.
For the moment Bernadette's horses are stabled during the winter in Vidauban because it's the best place to train with great weather. In the summer they stay in Germany so they don't have so much transport to do to get to the big competitions.
"For 2016 I'd like to get a step further and get to 75%," Brune stated. "I want to improve my work with Spirit and become a good team with Lights."
by Sarah Warne - Photos © Franck Marioton
Related Links
Scores: 2016 CDI Nice
Jorinde Verwimp Achieves Five in Five at 2016 CDI Nice
Lights of Londonderry Sold to Bernadette Brune
Bernadette Brune on Spirit of the Age OLD, Her Once in a Lifetime Horse
Stallion at Stud: Spirit of the Age OLD
Stallion at Stud: Valeron