FEI Dressage News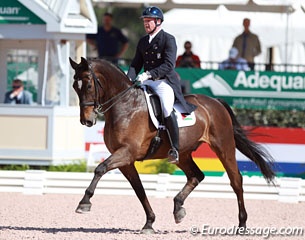 There are 14 days left between now and the closing of the Olympic Ranking List on 6 March 2016. By some strange coincidence, in those 14 days there are still 13 more CDI's around the world, two of them are CDI-W, two are CDI5* and one CDI4*. So the race is still very much on!
The only official source for the ORL is of course the FEI and that will only be produced after March 6, but we have been tracking the scores since 31 January for you and we estimate this is where we are now.
There are no changes in any of the group qualification predictions we made on February 8
Group A: Anna Kasprzak and Mikala Münter Gundersen for DEN
Group B: Victoria Max-Theurer (AUT) and Valentina Truppa (ITA)
Group C: Inessa Merkulova (RUS) and Beata Stremler (POL) where Beata increased her lead over Inna Logutenkova to 33 points
Group D: Megan Lane (CAN)
Group E: Yvonne Losos de Mūniz (DOM) increased her lead over Cesar Lopardo Grana (ARG) to 48 points
Group F: Christian Zimmerman (PLE) has also a 48 point lead over Nicole Smith (RSA)
Group G: Julie Brougham (NZL)
In the race for the final 6 ranking list places, it is now clear you will need at least 946 points to make the cut. No change in points for the four leaders: Marcella Krinke Susmelj SUI (1005), Fanny Verliefden  BEL (1000) and Agnete Kirk Thinggaard DEN (989). Judy Reynolds IRL had nice tests in Neumunster but not enough to gain more points so is still at 955 points. Gonçalo Carvalho POR has climbed 13 points to 953. Jorinde Verwimp  BEL enters this group of 6 after winning both tests in Nice to go up by 23 to 946 points. 
Sitting just below those 6 are Daniel Bachman Andersen DEN (940), Jeroen Devroe BEL (940) and Lars Petersen DEN (939). Belgium can still make a three-member team but probably only at the expense of Ireland losing its place
Look for another update next Sunday after 5 more CDI's in the next 7 days: Vestfold, Wellington, Jerez de la Frontera, Burbank and Moscow.
By David Stickland / Global Dressage Analytics - Photo © Astrid Appels
Related Link
David Stickland: Who Will Get The Last Individual Tickets to Rio?