Hanoverian Breeding News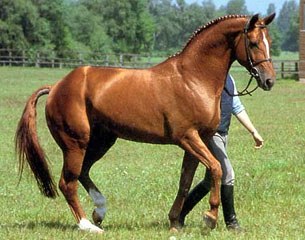 The 4-year old dressage bred stallions Frisco and Lasogga S were decorated with the 2014 Weltmeyer Prize at the Stallion Show of privately owned Hanoverian stallions in Verden, Germany, on 8 February 2016.
The Hanoverian society has been awarding the best performing 4-year old Hanoverian stallion in the 70-day stallion performance testing for years. At its inception the award was only given to one stallion, who was at the time proclaimed "Best Hanoverian Stallion" as a 4-year old. In 2012 this honour became known as the Weltmeyer Prize and was given to several stallions each year.
Manfred Schäfer, chair of the Hanoverian society, awarded the 2016 Weltmeyer Prize to the owner of Frisco (by Furstenball x Stedinger x White Star). He is bred by Gestut Grasekamp in Datteln, Germany, and owned by Gestüt Letter Berg. Frisco scored a dressage breeding value of 135 points at his 70-day testing in Adelheidsdorf.
Tobias Schnoink, breeder and owner of Lasogga S (by Lord Loxley x Grosso Z x Brentano II), was also awarded the Weltmeyer Prize. His stallion scored a breeding value index of 132 at the performance testing.
Related Links
Donatus, Furstenhof, Dantano Win 2014 Weltmeyer Prize
Del Magico, Sporcken, Quasar de Charry Receive Inaugural Weltmeyer Prize
Dancier, Best Hanoverian Stallion of the Year 2002
Royal Blend, Best Hanoverian Stallion Born in 2001
Re Primeur, Best Hanoverian Stallion Born in 2000
Earl, Best Hanoverian Stallion Born in 1999