2016 Olympic Games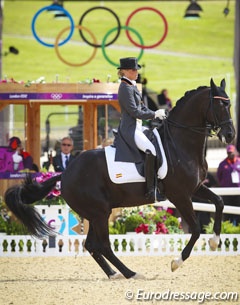 In just under one month's time on 6 March 2016 the Olympic Ranking List (ORL) will close and we will find out which additional nations will get tickets to Rio this summer. Although the remaining individual slots are to be "won" by gaining points for the ORL, no individual athlete actually qualify directly for Rio through the ORL system. The highest ranked pairs earn a place for their National Olympic Committee and that NOC can always choose to send a different qualified couple -- or nobody -- to the actual games. 
Ten countries already have teams qualified: BRA, GER, GBR, NED, AUS, USA, ESP, SWE, FRA, JPN, so their athletes don't enter into ORL. Nor do the four individuals that already gained an individual place for their nations: Belinda Trussel for CAN, Bernadette Pujals for MEX, for Tanya Seymour for RSA and Dongseon Kim for KOR.
The Rio Ranking Rollercoaster
A total of 16 places will be allocated 7 March 2016, those 16 places are assigned in different categories. Two each for FEI Groups A, B, C and one (more) each for groups D, E, F and G. It is 1 (more) because 4 places already went to CAN, MEX, RSA and KOR as noted earlier. That totals 10 new places by "Group Qualification" and there are 6 more places for the next top ranked athletes in the combined ranking list for all regions. Phew....
Now, ORL points are a little strange; they are assigned to a combination and basically you get one point for every 0.1% of your final score above a 50% - so an 80% is worth 300 ORL points. Then there are some adjustments that take into account the level of the competition (like 5*, CDI-W...) and Freestyles scores are reduced by 3% since they tend to score about 3% higher. The ORL takes into account just the 4 best results over the qualifying period 9 March 2015 till 6 March 2016 inclusive, so to go up the ranking list it doesn't just suffice to compete, you have to replace one or more of those top 4 scores.
The latest copy of the ranking list takes into account all results up to 31 January 2016 was published by the FEI on Friday 5 February 2016.
So, who can we expect to earn an Olympic place in March?

Group A, that's mostly Northern Europe. The already qualified nations GER, GBR, NED and SWE aren't included in this ranking list and Denmark has a near stranglehold on this group with 7 out of the top 10 riders being Danish! The strongest non-Dane is Judy Reynolds for IRL currently in 4th place, but Anna Kasprzak and Mikala Münter Gundersen look to be the likely qualifiers from group A giving Denmark 2 out of the 3 riders minimum for a team (But its not over for Denmark, see later)
Group B is broadly speaking Southern Europe, three riders are in strong positions: Victoria Max-Theurer for AUT, Valentina Truppa for ITA and Marcela Krinke-Susmelj for SUI, with Fanny Verliefden next in line hoping to qualify for BEL. Fanny is just 29 points behind Valentina – who is of course no longer competing on Eremo as he was sold to Brazil on 4 January 2016. If Verliefden can pull off another freestyle like Amsterdam then it's possible.
Group C is Central and Eastern Europe as well as Central Asia, here Inessa Merkuova looks set to pick up a place for Russia, but then the competition is too close to call between Beata Stremler for POL, Inna Logutenkova for UKR and Marina Aframeeva for Russia. The three of them are separated by just 19 ORL points, it will go right down to March 6th for Group C!
Group D has one place going and it will be a second Canadian, probably Megan Lane.
Group E looks to be sealed up by Yvonne Losos de Muñiz for DOM, though Cesar Lopardo Grana for ARG is 36 points behind
Group F looks like a first for Palestine with Christian Zimmerman fairly safely in the lead ahead of Nicole Smith from RSA
Group G will be a New Zealander – almost certainly Julie Brougham.  She also has to satisfy her national selection criteria of two tests over 70% and still needs one score.
So that's the Group Qualifications, but there are still 6 ranking places available. Whichever of Krinke-Susmelj, Truppa or Verliefden that do not qualify by Group, they will almost certainly qualify with the first two of these six places, followed by Agnete Kirk Thinggaard who will then complete a three rider Danish team for Rio! Next Judy Reynolds (IRL) could pick up the 4th general ranking list place. The last 2 places available have 3 identically scoring candidates battling for them: Daniel Bachman-Andersen who could give DEN a full 4-member team, Jeroen Devroe for BEL and Gonçalo Carvalho for POR, each of them with 940 ORL points. So it looks like 2 of them will go forward and one will not!
There is one more slightly open question, will Brazil succeed in fielding a four-member team? So far only one rider João Victor Marcari Oliva has the required two qualifying scores with a 5* judge, though Luiza Tavares de Almeida and Reneta Rabello Costa each have one. If they would not qualify 4 riders by 19 June then 1-3 places could be added to the 6 places already assigned from the overall ranking list, but I am quite sure that Brazil will do its very best to qualify all 4! If however two places would open up, then there would be a good chance that Norway would get a place or Belgium would get a third rider to make a team!
Predicted Team Scores
Now for a little whimsical look forward to August. There will probably be 11 nations competing for the team medals, we could use the ORL points to make a prediction. It's not really accurate as a number of the team riders have not been competing their likely mounts since Aachen – for example Dujardin and Sprehe – but it probably gives a pretty realistic picture.
No big surprises on the likely medal winners but easy for changes to come in if any top horse is out of the running or something goes wrong. As usual GBR is the most exposed to a big change because so much depends on their top horse, but even a swap of Valegro to Uthopia would probably still keep GBR in the medals. USA and Sweden are neck and neck (again!).
Luckily sport is still sport and many things can change in the next six months.
Germany - 247.5
Great Britain - 245.6
The Netherlands - 242.6
Sweden - 232.8
USA - 232.3
Denmark - 227.9
Spain - 226.1
France - 218.5
Australia - 215.4
Japan - 199.8
Brazil - 192.9
By David Stickland / Global Dressage Analytics - Photo © Astrid Appels
Related Links
David Stickland: Who Will Qualify for Rio in Aachen This Week?
David Stickland: So You Want to Go to Rio?