KWPN Breeding News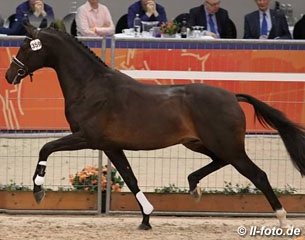 Igor (by Apache x Vivaldi) was proclaimed the champion of the 2016 KWPN Stallion Licensing held at the Brabanthallen in 's Hertogenbosch, The Netherlands, on Saturday 6 February 2016.
Forty dressage stallions were accepted for the stallion performance testing, which is mandatory for KWPN stallions to become fully licensed and accepted for breeding. Eight stallions were selected for the champion's ring.
Bred by J. de Bruijn and owned by Ad Valk, Igor was the undisputed champion of the 2016 KWPN licensing. The dark bay excelled with his conformation and spectacular gaits. Igor is out of KWPN champion mare Crisjena. Jan Vink of Black Horses acquired the half ownership of this stallion at the licensing in a private deal. Shortly after the licensing, the stallion was renamed Indian Rock.
"This very well moving Apache son convinced each time that he's on the move. He has a royal conformation and extra special way of moving, with which he draws many fans," said Bert Rutten, the chair of the licensing committee. 
Ierland (by Dream Boy x Jazz) became the reserve champion and sold privately to Andreas Helgstrand for euro. He is bred by stud farm Broere.
"This appealing Dream boy son has three good basic gaits with much ground cover and cadence," said Rutten. "He developed very well since the first phase."
The third placed stallion in the champion's ring was It's a Pleasure (by Dark Pleasyre), followed by Iniesta VDT (by Apache), Idool N (by Bordeaux), Indiana Jones (by Cupido), Incredible (by Charmeur) and Inferno M (by Davino VOD).
"The KWPN board of breeders gave us the task to be lenient in accepting stallion for the performance testing because we can test the horses better under saddle to achieve our breeding goals," said Rutten. "It wasn't a hard task todat and we were also able to select a couple of stallion who are interesting for diversity in the gene pool. I'm thinking of sons by Furst Wilhelms, Voice and Connaisseur."
At the KWPN Select Sale, the auction following the licensing, the price highlight was the chestnut Ixilon (by Johnson x Ferro) which sold for 85,000 euro to Philippe Lautier from France. Unlike the major breed societies in Germany, the KWPN society was unable to crack the 100,000 euro price barrier this year with its top selling stallion. The second most expensive horse was ID united (by United x Welt Hit II) which sold for 60,000 euro to domestic buyers. Ivar (by Johnson x Farrington) sold for 46,000 euro to Spain. Twenty-three horses sold at auction and the average sales price was 33,500 euro.
The stallions accepted for the performance testing at the 2016 KWPN Licensing  are
Iristo (by Apache x Houston)
Ivor K (by Apache x Rousseau)
Iniesta VDT (by Apache x Ferro)
Icon Begijnhoeve (by Apache x Flemmingh)
Igor (by Apache x Vivaldi)
I'm Perfect STF (by Zack x Fidertanz)
Idool N (by Bordeaux x Jazz)
Irresistibell Boy (by Bordeaux x Sandro Hit)
Intruder (by Connaisseur x Partout)
I'm Story (by Cover Story x Jazz)
Indiana Jones (by Cupido x Special D)
Dettori (by Desperado x De Niro)
Ivanof (by Desperado x Fidertanz)
Impression (by Don Schufro x Ferro)
Ierland (by Dream Boy x Jazz)
Ivorava (by Dream Boy x Negro)
In Style (by Eye Catcher x Lorentin)
Frascino / Fairtrade KL (by Furst Wilhelm x Don Frederico)
Fiamingho MS (by Furstenball x Lord Sinclair)
Invito (by Furstenball x Sandro Hit)
Idono Paulowna (by Sir Donnerhall x Krack C)
Ivar (by Johnson x Farrington)
In the Game (by Johnson x Tuschinski)
ID United (by United x Welt Hit II)
Indy de Jeu (by Voice x Florencio)
Imperio (by Johnson x Kennedy)
Icoon B (by Bon Bravour x Jazz)
I (by Charmeur x Balzflug)
Incredible (by Charmeur x Gribaldi)
Isaac PB (by Chippendale x Jazz)
It's a Pleasure (by Dark Pleasure x Zack)
Incognito (by Davino x Vivaldi)
Inferno M (by Davino x Jazz)
Ivano LH (by Everdale x Johnson)
Incredible C-Two (by Everdale x Don Romantic)
I (by Hofrat x Zhivago)
Indigro (by Negro x Jazz)
Indorado (by Negro x Lord Leatherdale)
In the Mood Utopia (by Winningmood x Oscar)
Indian Summer (by Wynton x Flemmingh)
Related Links
Handsome O, Champion of the 2015 KWPN Stallion Licensing
Glamourdale, Champion of the 2014 KWPN Stallion Licensing
Fierce S (Franklin), Champion of the 2013 KWPN Stallion Licensing
Etoine, Champion of the 2012 KWPN Stallion Licensing
Diebrecht, Champion of the 2011 KWPN Stallion Licensing
Cover Story, Champion of the 2010 KWPN Stallion Licensing
Bordeaux, Champion of the 2009 KWPN Stallion Licensing
Ajong (aka Ampere), Champion of the 2008 KWPN Stallion Licensing
Zagreb (aka Blue Hors Zack), Champion of the 2007 KWPN Stallion Licensing
Wamberto, Champion of the 2006 KWPN Stallion Licensing
Johnson, Champion of the 2005 KWPN Stallion Licensing
Ustinov and Uptown, 2004 KWPN Stallion Licensing Champions
Tornado, Champion of the 2003 KWPN Stallion Licensing
Symfonie, 2002 KWPN Licensing Champion
First KWPN Select Sale at 2001 KWPN Stallion Licensing
Paddo, 2000 KWPN Stallion Licensing Champion