2015-2016 KWPN Stallion Competition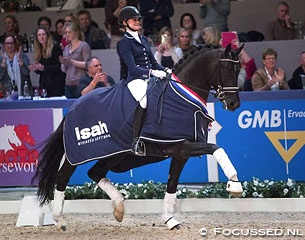 The 5-year old Toto Jr, the 6-year old Ferdeaux and the 7-year old Electron became the winners of the 2016 KWPN Stallion Competition Finals held at the 2016 KWPN Stallion Licensing in 's Hertogenbosch, The Netherlands, on Friday evening 5 February 2016.
At L-level it became a battle between two Totilas' offspring and Marieke van der Putten and the Hanoverian bred Toto Jr (by Totilas x Desperados) produced the highest score on the board with 91 points. The black stallion was slightly tense at the beginning of his ride, but the walk was outstanding. He scored 9.5 for walk and trot. Adelinde Cornelissen and Governor (by Totilas x Jazz) were second. The black stallion was lightfooted and well balanced but he was short in the neck throughout the ride.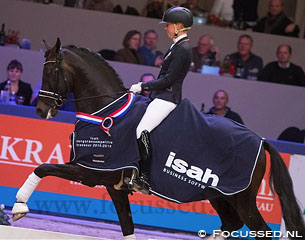 In the M-level division Kristen Brouwer took the overall victory on the dark bay Ferdeaux (by Bordeaux x Ferro) after scoring 84 points. Ferdeaux' biggest competitor on the circuit was Four Legends KS (by Wynton x Ferro), ridden by Marieke van der Putten. This horse won two qualifiers but according to the KWPN society did not fulfil the criteria for competing at the finals in Den Bosch. In the finals Ferdeaux impressed with his trot work and front leg usage to win the class. Mirelle van Kemenade and the bay Ferdinand (by Vivaldi x Havidoff) were the runners-up after scoring 8.5s for trot, canter and potential. The horse lacked some back usage in the extensions.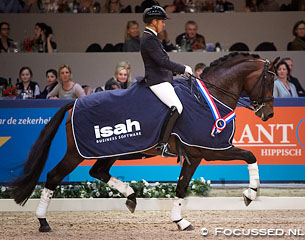 Only one stallion contested the Z-level division this year. Electron (by Ampere x Fidermark) competed at all three qualifiers before the finals, so he was automatically the overall winner. At the Finals Marieke van der Putten made her first and only appearance on El Capone (by UB 40 x OO Seven) in the 2015-2016 KWPN Stallion Competition and scored 81 points despite some tension. The black stallion stood out with his trot half passes and front leg usage. Annemarie Brouwer and Electron scored 72 points. The horse was praised for his self carriage in trot even though he could have been straighter in the body and more up in the bridle, according to judge Peutz.
Photos © Anniek van Schaik
Results - 2016 KWPN Stallion Competition Finals
L-level
1. Marieke van der Putten - Toto Jr - 91
2. Adelinde Cornelissen - Governor - 85
3. Kirsten Brouwer - Ferguson - 84
4. Dana van Lierop - Gunner KS - 82
5. Kim Koolen - Guardian S - 80
6. Kirsten Brouwer - Ghandi - 80
7. Benjamin Maljaars - Glamourdale - 79
8. Danielle Heijkoop - Gin Tonic - 76
9. Adelinde Cornelissen - Grappa - 80
10. Charlotte Fry - George Clooney - 75
11. Astrid Langeberg - Grenoble - 75
12. Justine Mudde - Golden Gate - 69
M-level
1. Kirsten Brouwer - Ferdeaux - 84
2. Mirelle van Kemenade - Ferdinand - 83
3. Severo Jurado Lopez - Franklin - 82
4. Joyce Lenaerts - Firestone - 78
5. Joyce Lenaerts - Fellini - 75
6. Marlou de Ruijter - Feel Good - 70
Z-level
1. Marieke van der Putten - El Capone - 81
2. Annemarie Brouwer - Electron - 72
Related Links
Toto Jr, Four Legends KS, Electron Win Third Leg of 2015-2016 KWPN Stallion Competition
Toto Jr, Ferdeaux, and Electron Win Second Leg of 2015-2016 KWPN Stallion Competition in Roosendaal
Toto Jr, Four Legends KS, Electron Win First Leg of 2015-2016 KWPN Stallion Competition