Westfalian Auctions in Münster-Handorf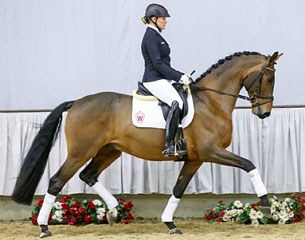 The 4-year old Westfalian gelding Loui became the top selling horse at the 2016 Westfalian Winter Auction, the "Handorf Extra" on Sunday 17 Janiuary 2016.
The bay gelding (by L'Espoir x Rotspon x Matcho AA), bred by Birgit Buddenbrock, sold for 55,000 euro. A Hessian based customer acquired the horse.
Clients from Bavaria were on a shipping spree as they purchased the further three most expensive horses of the auctions. Customers paid 30,000 euro for the 4-year old chestnut Vangelis (by Vitalis x Brentano II x Argentinus ) and for the 4-year old chestnut Verona (by Vitalis x Donnerschlag x Royal Angelo I).
The 3-year old colt Fabrice (by Furstenball x Diamond Hit) moves to Bavaria for 26,000 euro.
The average price for a Westfalian bred young sport horse at this auction was 15,367 euro.