Spanish Dressage News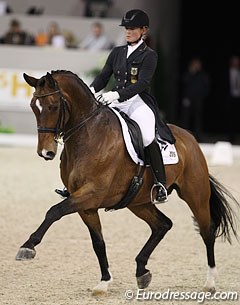 Jose Antonio Garcia Mena has received the ride on El Santo for the 2016 Olympic show year. The 15-year old Rhinelander gelding El Santo has been successfully competed by Isabell Werth and is owned by Madeleine Winter-Schulze.
Ownership of El Santo (by Ehrentusch x Rhythmus) has been transferred on paper and with the FEI to Jose Antonio and his wife, so everything is in order before the Olympic transfer deadline of 15 January 2016. All horses competing for a certain nation have to be in the ownership of the rider of that nation.
Jose Antonio Garcia Mena and Isabell Werth have been working together for little over two years beginning when Werth asked the Spanish team rider to come and help her train the piaffe on El Santo. The chunky bay stallion has always struggled with the piaffe and Garcia Mena came to assist in the training. A nice partnership between the German and Spanish Grand Prix rider has developed since then, which led to Werth/Winter-Schulze's agreement to give to ride on El Santo to Jose Antonio for 2016.
Isabell Werth and El Santo made their international Grand Prix debut in 2010 at the CDI-W Gothenburg. The pair was once selected on the German team for the 2011 European Championships in Rotterdam where they finished 7th individually. They finished 4th at the 2012 World Cup Finals in 's Hertogenbosch, 5th at the 2014 World Cup Finals in Lyon and 6th at the 2015 World Cup Finals in Las Vegas.
With the sale of Batuta to a new Portuguese owner in 2014 and the retirement of his team horse Norte in December 2015, Jose Antonio Garcia Mena was without a ready-to-go Grand Prix horse in an Olympic year.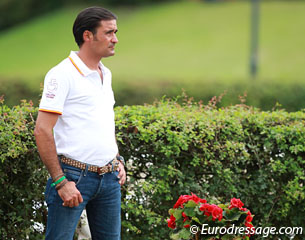 While it is clear that the Olympics are the main goal, Garcia Mena remains modest in his desires. "At this moment it's too early but there is goal. I have to enjoy it, I'll start working and time time. At the moment there is no time table," Jose Antonio told Top Iberian.
Isabell Werth told Dressage News that Garcia Mena still needs to try out El Santo, while Top Iberian stated that they were aware that an  agreement of Jose getting the ride on El Santo was in the making for more than a month. "He will come to ride Ernie next week and if they like each other then we'll go to a show and see how that goes," Isabell told Dressage-News. "We have no lease, no agreement of any kind. Madeleine (Winter-Schulze, the owner) has agreed to this and there is no pressure to do anything."
Photos © Astrid Appels
Related Links
Jose Antonio Garcia Mena's Norte Retired from Competition
Jose Antonio Garcia Mena Loses Ride on Dragao Figueiras
Jose Antonio Garcia Mena Gets Married
Werth and El Santo Win Kur under Floodlight at 2015 CDI Wiesbaden
Werth's Legal Battle in El Santo's Positive Medication Case Continues
Werth's El Santo NRW Wins 2010 Medien Cup Finals
Isabell Werth's El Santo NRW Wins 2010 Otto Lorke Prize