Belgian Dressage News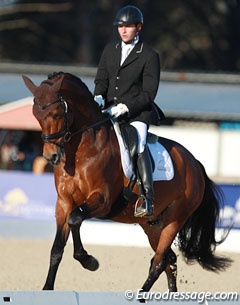 The 2015 French Young Horse Championship silver medal winning Alquazar de Massa has been acquired by the Niclaus family as FEI hopeful for Belgian Grand Prix rider Françoise Hologne-Joux.
Alquazar de Massa is a 6-year old Portuguese cross bred sport horse by San Amour out of the Lusitano dam Pampa (by Landim SSX x Xiwara RHE). The bay stallion is bred by Sylvain Massa and is one of France's most successful young dressage horses.
"We saw Alquazar at the French Young Horse Championships in Saumur, where he finished second," Hologne-Joux told Eurodressage. "We loved him immediately. Mr and Mrs Niclaus know Mr Massa very well, so straight away we made an appointment to go to the South of France  to try him out."
Under Renaud Ramadier, the bay Alquazar finished sixth at the 2014 French Young Horse Championships for 4-year olds and became the reserve champion as a 5-year old at the 2015 French Championships. He also competed at the international 2015 CDI Vidauban where he placed fourth and second in the 5-year old FEI young horse tests.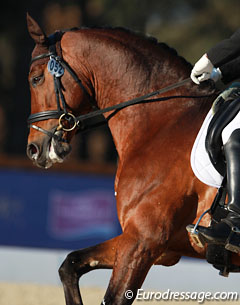 Jean and Françoise Niclaus recognized Alquazar's talent and potential and secured him as an FEI hopeful for Belgian Françoise Hologne-Joux. The 49-year old is a squad listed Grand Prix rider on Wodan (by Gribaldi) and one of Europe's most successful small tour riders aboard Warhol (by Warkant)
"I met the Niclaus couple at international shows several times and five years ago they were looking for a new rider to train and compete their horses," said Françoise. "They phoned me and that was the beginning of a beautiful partnership. Warhol is now 16 years old so it was time for us to look for a younger horse to follow in his footsteps."
Hologne-Joux is ecstatic about Alquazar, who arrived in her barn in Thuillies, Belgium, in December.
"Alquazar is a lovely horse with a very good character," said Françoise. "He is so kind that everyone loves him in my stable. He has three very good gaits with a very big walk and an excellent canter. He learns very fast."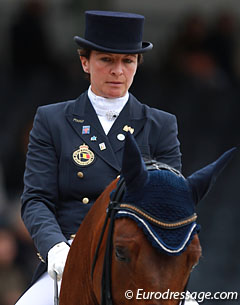 Alquazar is turning six in the spring of 2016 and while the 6-year old young horse tests are a goal, Françoise will not put pressure on her new horse for him to be ready by spring.
"He's now schooling the flying changes, but is still maturing very much. We are not in a hurry to compete him. I will focus on Wodan and Warhol for the spring shows and Alquazar will be presented when he's ready. We are taking our time."
Related Links
Flair Royal, Quaterdance, Quaterbold du Payrol Win 2015 French Young Horse Championships
Photo Report: Hanna and Hologne-Joux Ace Small Tour at 2014 CDI Compiegne
Hologne-Joux' Warhol and Wodan, Winners a World Apart at the 2013 CDI Vidauban
Françoise Hologne-Joux' Born Retired