2016 CDI Drachten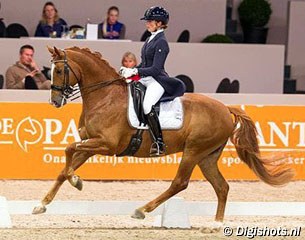 Dutch junior Febe van Zwambagt was a league of her own at the 2016 CDI Drachten on 8 - 10 January 2016, where she produced her second  hattrick in one month time. After claiming triple victory at the 2015 CDI Roosendaal Indoor at the beginning of December, Van Zwambagt again dominated all three junior rider classes in Drachten on her Rhinelander bred FS Las Vegas.
With fifteen junior riders from five different nations gathering, the competition in Drachten was strong enough but Van Zwambagt and FS Las Vegas (by Lord Loxley x Louis Le Bon) proved too strong a pair for her peers and won all three classes with a high score advantage. In the team championship test she posted a result of 73.108%. The next day they upped the ante with a winning 74.298% and on Sunday they topped it off with a 75.125% winning freestyle. 
"It couldn't be better," said Van Zwambagt. "FS Las Vegas was really on the aids and the freestyle was in fact faultfree. On the first days a few mistakes still snuck into the test but each day we added a percent to it."
The 17-year old Van Zwambagt is finishing high scool this year and has set her mind on one goal. "The European Championships," she quipped. "It's still a while. I'm trying to keep this form and even improve on it."
Last year Febe missed out on the European Championships. "We were working on a few things in training, which meant we weren't on form. I think we came back stronger. At home my mom helps me and once a week I train with Tineke Bartels or Emmelie Scholtens. I'm already riding the international shows now, so I can focus on my final exams later on. When I finish them in May, I can focus on working towards the European Championships."
Van Zwambagt's biggest challengers in Drachten were the Danish Anne Mette Lyager on Brandtoftes Sjubell (by Don Juan), who finished second in the individual and third in the Kur, and Belgian Numa Verberne on Riverdance (by Wolkentanz II), who was third in the team and individual test and second in the freestyle.
Photos © Digishots
Relatd Link
Scores: 2016 CDI Drachten